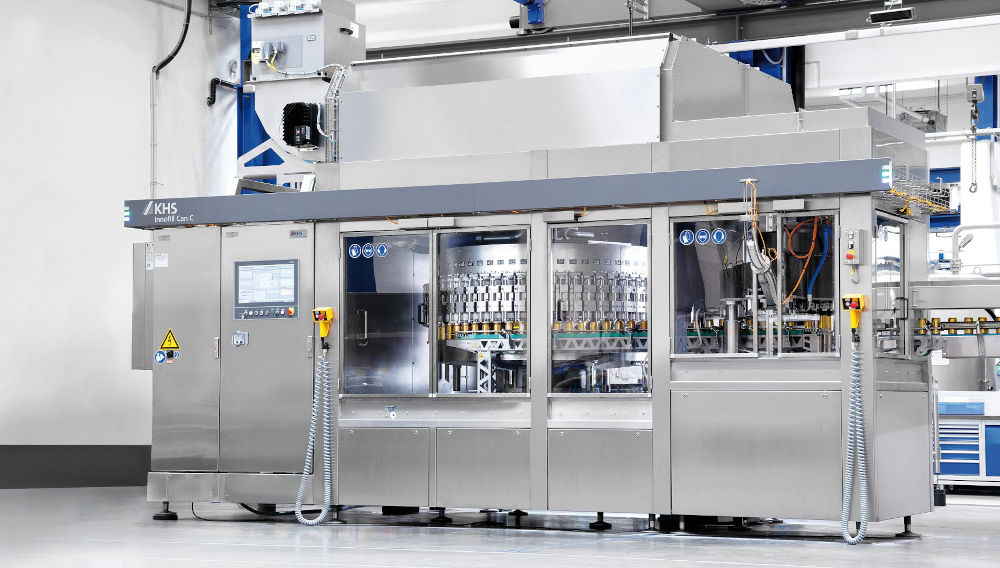 18 February 2022
KHS and Ferrum: Hygienic machine design
Combined expertise| In the future KHS and Ferrum will further intensify their cooperation. "Our machines are already very well coordinated with one another. However, we want to offer our customers even more integrated systems," states Marc Zubler, head of Sales and Product Management at Ferrum. Manfred Härtel, filling technology product manager at KHS, nods in agreement and adds that this also applies to the extensive range of consultancy and other services, where the two partners aim to function even more strongly as a unit in the years to come.
The world demand for trend beverages such as hard seltzer, energy drinks and craft beer continues unabated. Here, the can is often the container of choice, says Härtel: "It's light, easy to recycle and keeps products fresh for longer with its excellent barrier properties." This type of container is increasingly being favored for established beverages such as soda pop, water and mixed beer beverages. According to Härtel, this is prompting a good number of beverage filling operations to increase their range in the can segment. "This means higher demands are made of the machine's flexibility and hygiene," the KHS filling expert explains. "For the greater the product variety on a line, the greater the risk of contamination and flavor carryover."
Hygienic machine design is key
"Our mutual customers have exacting standards when it comes to the quality of their products," states Zubler. An optimum hygienic machine design that reflects the current demands and requirements of the market is just as important as the consultancy service that goes with it. Härtel claims both companies share a deep understanding in this area; many years of partnership have created systems that are perfectly attuned to one another. "We offer a complete package of first-class technology and advice. Our jointly developed filler/seamer block gives our customers plenty of added value," Zubler declares.
Protection against flavor carryover
In view of the increasing number of beverage variants being processed, during development special attention was paid to the hygienic machine design and providing protection against flavor carryover. In the product area the filling valves on the KHS can fillers are thus equipped with PTFE expansion joints (Teflon) in place of conventional seals. The sliding seals in the bell guides have also been replaced by Teflon expansion joints to create gapless, hygienic seals. These effectively protect the product from contamination and are easier to clean. Moreover, the electropneumatic lifting and positioning of the bells when sealing cans further contributes to a safe filling process. "Also doing away with water lubrication in the filler carousel area shortens exterior cleaning intervals by up to 20 percent," Härtel says.
Hygienic design for seamers
Like KHS, Ferrum makes the highest demands of the hygiene of its machinery. The greatest importance is attached to the hygienic design of all components. "When developing our seamers, we consciously went for an open design without cladding. This makes the components easy to clean and the machine readily accessible to operators," explains Jörn Winkelmann, process engineer and hygiene expert at Ferrum.