BRAUWELT International 3-2021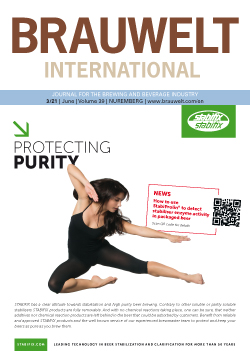 123
125
130
134
137
140
FERMENTATION AND MATURATION
145
148
152
156
162
166
169
174
EDITORIAL - Trends in the brewing industry
"The world has turned upside down in many ways when it comes to brewing. In the conflict between hard seltzer and craft beer, between ever stronger beers on the one hand and non-alcoholic brews on the other, we have to ask ourselves which direction brewers could be heading in," stated Prof. Charles Bamforth. His article "Trends in the brewing industry" (p. 134) outlines the current situation and casts a glance into the future.
An Ongoing Trend – Dry hopping continues to be a significant trend in the industry today. And yet, what exactly it is that hops contribute to beer has still not been fully explored. Modern analytical findings have helped to fill these gaps in our knowledge. Dr. C. Schmidt and Dr. Martin Biendl of the Hallertauer Hopfenveredelungsgesellschaft mbH in Mainburg, Germany are "hot on the trail" of the compounds found in the hard resins in hops, which appear to play a particular role in dry hopping. Follow the trail to their results on p. 162.
Visions of the Future – This may also become a relevant area of research in the future: pulsed electric field technology. Beginning on p. 137, we present potential applications in the brewery for this technology, which is already being utilized in other branches of industry. The authors note that this technology can be used for processes such as drying, sterilization and much more, while allowing them to be carried out more gently and with less energy.
Filtration Test – Back to the present: for a long time now, predictive tests have been available for determining the filterability of beer. The problem: they are all based upon diatomaceous earth filtration and have little relevance for membrane filtration. Dr. Michael Kupetz of the Chair of Brewing and Beverage Technology at TUM-Weihenstephan has therefore developed a test for assessing the filterability of beer in a crossflow membrane filtration system (p. 152).
Independent Check – Not new, but nevertheless essential: systematic monitoring of the cleaning performance of bottle washing machines. An easy-to-use method for checking empty bottles has been developed at the Research Center Weihenstephan for Brewing and Food Quality. This allows breweries to perform these checks independently. Dr. Hubertus Schneiderbanger of the Research Center explains how the test works on p. 166.
Double Anniversary – The BRAUWELT International team is always on the lookout for new trends and topics in the industry. We've been at it for quite some time. The publishing house Fachverlag Hans Carl in Nuremberg, Germany, has been in existence since 1861, that is, for exactly 160 years. Hans Carl publishes the BRAUWELT family of periodicals, which focus on the brewing and beverage industry. The German-language periodical BRAUWELT has been in existence for 75 years. These two anniversaries have afforded us the opportunity to look back at the high points of the last several decades as well as to reflect upon current developments at BRAUWELT (p. 169).
Authors