BRAUWELT International 4-2023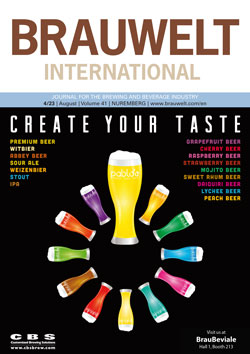 203
205
210
215
220
224
228
232
235
240
245
248
250
253
EDITORIAL - Brewing beer in uncertain times
As crisis-hardened Boomers continue to retire, Gen Xers are taking over brewers' C-suites in Europe. They may bring with them a new perspective on what it means to be a corporate leader, but they have scant experience in handling political risks. In today's world, risk is a far more complex and demanding issue than it was twenty or even ten years ago, writes Ina Verstl in her latest article on the topic of political risk and its impact on the international beverage industry (p. 205).
Just in time – Have you ever had to shut down your brewery for several months due to raw material shortages or other unforeseen issues? Most brewers would rather discard their pitching yeast and simply wait to re-start their propagator with a new pure yeast culture, but then it could take another month before fermentation can begin again. This year's Ludwig Narziss Award winners Carsten Zufall and his co-authors explain how to keep pitching yeast fresh in the dosing tank over a long period while still maintaining high levels of viability and vitality (p. 235).
Beneficial inflation – Energy-efficiency is more important today than it has ever been, and there is great potential hidden in spent grain. An Austrian brewery has established a biorefinery, where spent grain is converted into biogas and high-quality fertilizer. The biogas is utilized to generate the energy required in the brewery, while the fertilizer is returned to the barley field. The authors are pleased to describe how they reduce, reuse and recycle energy in this biorefinery in a true example of a circular economy. Read more on page 253.
Hoppier & healthier sans alcohol – Moving on to more upbeat topics: All around the world people are leading healthier lifestyles, many of whom walk into a bar and order a non-alcoholic beer nowadays – provided that it comes close to a regular beer in terms of flavor. Sandro Cocuzza explains how dry hopping affects beers with different levels of alcohol. He also describes why it has such a positive effect on non-alcoholic beers (p. 215). Or if you want to impart the barrel-aged flavors to your beers and neither have the space required nor the funding to establish a barrel program, you will be intrigued by this alternative: wood spirals (p. 248).
Skill, luck and chance – This installment in our series on the giants of brewing history spotlights Joseph Groll, the man behind pilsner beer. He had to overcome a number of hurdles in his life, and success was never guaranteed. As important as his knowledge and skill were to his success as a craftsman, in the end, luck and chance played a surprisingly significant role in his life story. With the invention of "his" beer style, he has earned a well-deserved place at the table among the giants of brewing history (p. 250).
Authors