Home
>
Service
>
Media
Media
Print advertising with BRAUWELT International
Print ads
Classic and unorthodox advertising methods help getting your message across to your customers. Your print advertising will be planned individually in close cooperation with you. Of course we will do our best to optimally place your ad in an appropriate editorial environment.

Your advantages:



you will reach your target group exclusively, without scatter losses

you will place your advertising in the right editorial environment

90% of decision-makers read BRAUWELT International

themed and specific advertising

Contact person


Rosi Meindl
Sales advertising print and online, Buyers Guide
Phone:
+49 (0)911 95285-26
Fax:
+49 (0)911 95285-48
E-mail:
meindl[at]hanscarl.com

Wolf-Dieter Schoyerer
Sales and marketing director
Phone:
+49 (0)911 95285-44
Fax:
+49 (0)911 95285-48
E-mail:
schoyerer[at]hanscarl.com
Classified ads
You would like to sell e.g. a labeller, you are looking for a specific crate washer, you would like to enter into a business relationship with another company, you are looking for a job or you would like to offer a job in your company? In such cases, small ads in BRAUWELT International are the method of choice. Double benefit for all advertisers of vacancies: they also appear free of charge in our Job Exchange on brauwelt.com/en.
Your advantages:

an attractive price

easier search resulting from section headings

invoicing per millimetre

customised arrangement of your ad
 
Contact person

Martina Wehfritz
Classified Ads, Buyers Guide
Phone:
+49 (0)911 95285-36
Fax:
+49 (0)911 95285-48
E-mail:
wehfritz[at]hanscarl.com
Buyers Guide
All companies wishing to be listed under a specific keyword can make use of the suppliers heading of BRAUWELT International as an optimal alternative for their advertising messages. The directory is used by decision-makers and buyers as a source of information and orientation, in particular for (replacement) procurement and planning.
Your advantages:

crossmedial publication

alphabetic listing of headings

an attractive price

you will reach your target group exclusively, without scatter losses
Contact person


Rosi Meindl
Sales advertising print and online, Buyers Guide
Phone:
+49 (0)911 95285-26
Fax:
+49 (0)911 95285-48
E-mail:
meindl[at]hanscarl.com

Martina Wehfritz
Classified Ads, Buyers Guide
Phone:
+49 (0)911 95285-36
Fax:
+49 (0)911 95285-48
E-mail:
wehfritz[at]hanscarl.com
Current issue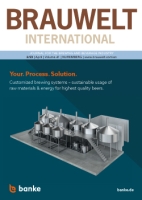 BRAUWELT International 2