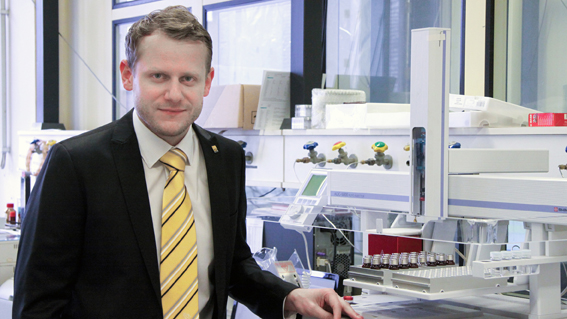 23 January 2015
Nils Rettberg new head of the VLB Research Institute for Special Analyses
The Research Institute for Special Analyses (FIS) of the VLB Berlin is headed by Dr. Nils Rettberg since 1 January 2015. In this function, he succeeds Prof. Dr. Leif Alexander Garbe, who has accepted a position as professor at the Neubrandenburg University of Applied Science last year.
With Dr. Nils Rettberg (31) a young scientist will assume the position as head of the VLB Research Institute for Special Analyses. This institute, under the umbrella of the VLB Berlin, focuses on the analysis of flavour and aroma-active key components in beer, beverages, and their precursors.
Nils Rettberg made an apprenticeship as Brewer and Maltster at the Binding Brewery in Frankfurt am Main, Germany, from 2002 to 2005. He graduated successfully as Diploma Engineer for biotechnology with focus on brewing science at the Technische Universität Berlin. In 2011, he started as a research associate at the Chair of Bioanalysis at the TUB under direction of Prof. Dr. Leif Alexander Garbe. At the same time, he was involved in many brewery-specific issues and research projects in the area of trace analysis using gas chromatography-mass spectrometry at the VLB Research Institute for Special Analyses. In summer of 2014, he received his PhD (Dr.-Ing.) with his thesis "Comprehensive analysis of hop secondary metabolites" and moved completely to the VLB Berlin.
As the new head, Nils Rettberg sees the future focus of the FIS in the development and application of more efficient methods of analysis for the increasingly complex issues of the brewing and beverage industry. He is assisted by a young team of currently ten scientists from the fields of brewing technology, biotechnology, chemistry and food chemistry. Through his position as visiting lecturer for "Special analysis in the brewery", he remains closely related to the TU Berlin and contributes to the university education on behalf of the VLB.
Keywords
Source
BRAUWELT International 2015
Companies
Versuchs- und Lehranstalt für Brauerei in Berlin (VLB) e.V., Berlin, Germany