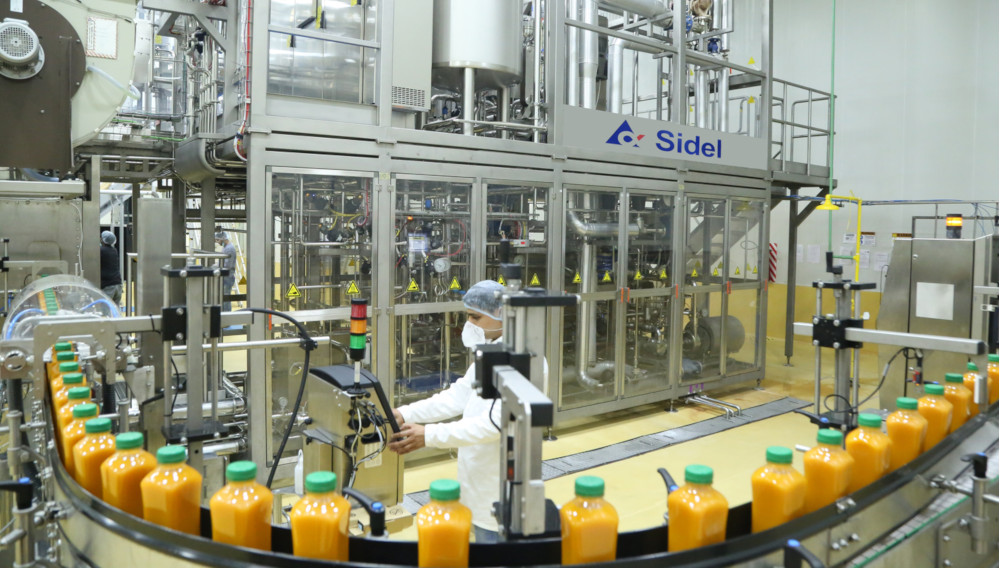 27 August 2020
Hyper flexible complete aseptic PET line with many firsts
Sidel | One of India's foremost private sector companies, ITC, recently introduced a brand new range of milk-based drinks with fruit pieces while expanding their juice portfolio with a variety of premium 100% Indian fruit, 0% concentrate and 0% preservative juices. With both they trusted Sidel and their proven expertise in aseptic packaging, investing in a complete line, featuring the first dry preform sterilisation in India.
Besides helping this manufacturer to gain greater productivity and flexibility, Sidel designed and tested their three new PET bottle formats for absolute food safety and powerful packaging differentiation on retailers' shelves. 
Surfing the healthy consumer wave in India
Indians are more and more looking for 'better-for-you' beverage options, which are offering added nutritional benefits on a daily basis. Busy and stressful lifestyles are increasingly representing the rule for the majority of the Indian population, who is looking for convenient ways to cope with their time constraint and is willing to pay a premium for so-called 'naturally healthy' beverages in small formats.
Recognising this shift in consumer preferences, ITC recently decided to expand their product range to include liquid dairy products: they launched Sunfeast Wonderz Milk, a new milk-based drink bottled in PET. Available in 200 ml and 300ml formats, it is offered in four different flavours.
To make this move, ITC needed a highly flexible PET packaging solution. "Strengthening innovation across the organisation is a key business imperative for us in these times of rapid business change and heightened competition. It also ensures that we enlarge our market share, create brand differentiation and are future-ready. All of that while pursuing 'Responsible Competitiveness' – a socio-economic-environmental framework that is pushing us to always guarantee that growth is sustainable and inclusive," explains Rajesh Ponnuru, Category Manager Juices and Dairy at ITC Limited.
"We are really proud to be the first ones in India to leverage the benefits of aseptic PET production with dry preform decontamination," continues Rajesh Ponnuru from ITC. "This unique system perfectly supports the complete aseptic PET solution Sidel provide to us, offering flexibility, sustainability and efficiency. Plus, the Predis system uses no water and very little chemicals during production." 
Expert advice along every step of the value chain
As ITC were unfamiliar with aseptic PET production, Sidel provided them thorough advice along every step of the supply chain. Sidel's Liquid Package Interaction (LPI) laboratory ran shelf life tests on a number of juice and milk-based recipes to simulate real life distribution conditions and ensure, in advance, the products' quality, safety, and organoleptic properties. The resulting insights helped ITC decide, which recipes to launch on the market and which PET barrier material to choose; the goal being to protect their dairy drinks and juices against microorganism growth and alterations caused by the effects of light, oxygen and temperature. To meet the highest food safety standards and ensure a 6-months shelf life, Sidel's packaging scientists recommended the customer to use an O2 PET barrier for their milk-based product range and an O2 – combined with a light – barrier to protect their 100% organic juices.
The scope at ITC includes Tetra Pak Processing System (TPPS) technologies and, as the heart of the line, the Aseptic Combi Predis complemented by Capdis™, the company's dry cap decontamination system. The line also features a RollQuattro labeller, a sleever, packing and stretch wrapping systems, a PalKombi palletiser and EIT® (Efficiency Improvement Tool), with the latter one significantly improving production efficiency.
The aseptic PET complete line – operational since early 2019 – was installed in a new area of the ITC production site in Kapurthala (Punjab) and laid-out to account for production operations and raw material logistics. It ensures the highest level of ease of operations and maintenance, hygiene and food safety while offering outstanding flexibility to switch easily from one product to another.