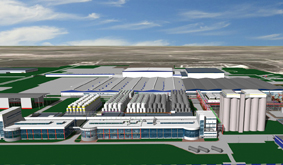 06 March 2015
Ziemann secures major contract in Mexico
While the current expansion stage to 20 million hectoliters is still in full swing, Constellation Brands, USA has already placed an order for the next expansion stage of the Compañía Cervecera de Coahuila, Mexico. Ziemann International GmbH, Germany again will play an important role in increasing the production capacity of the brewery in Piedras Negras. The project shall be completed in 2017.
The expansion to an annual production capacity of 25 million hectoliters includes two additional brewhouses, one cold block inclusive of tanks and pipework, the automation system and utilities as well as various services, such as engineering, project management and installation works. Currently, the company from Ludwigsburg is heavily involved in doubling the production capacity of the Compañía Cervecera de Coahuila to 20 million hectoliters per year. It had also played a leading role in the first expansion stage of the brewery.
"This second order within only eleven months is the result of the tireless and professional work of the entire project team in Germany and Piedras Negras. The order underlines once again the close cooperation with Constellation Brands. We appreciate their trust and confidence in our team and we are committed to delivering on our commitments", explained Ralph Schneller-Reindell, key account manager of Ziemann.
Keywords
Source
BRAUWELT International 2015