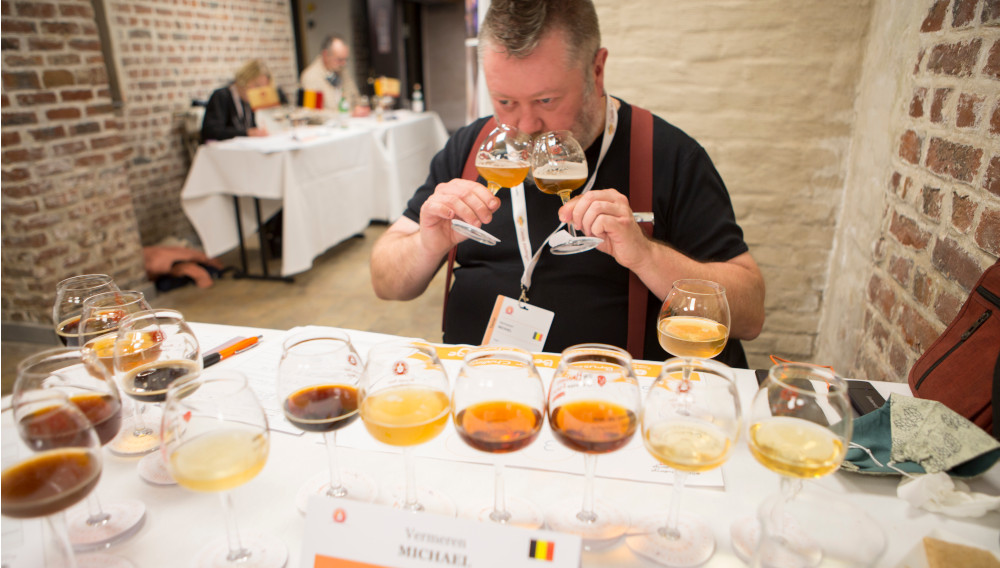 15 December 2020
Brussels Beer Challenge 2020: 'Covid edition'
1546 beers | The 9th Brussels Beer Challenge was held in Brussels from 26 October to 6 November 2020 with all the necessary health and safety precautions in place. Due to travel restrictions, most jurors came from Belgium. 1546 beers were submitted this year, which is similar to last year. Considering the ongoing pandemic, the organizers consider this a sensational success.
Tasting took place at the end of October and the beginning of November at the Becomev tasting facilities in Brussels. The safety of the experts and helpers was top priority. The highest level of protection was ensured by a sophisticated hygiene concept: each member of the panel had their own individual table. The size of each panel was limited to four people. The organisers of the Brussels Beer Challenge set a minimum distance of two metres between tables and masks were mandatory, except of course, at the tasting table.
The most successful brewery in the 2020 Brussels Beer Challenge was Brasserie Dupont, Belgium. The title "Best Beer" went to "Friend or Foe?" by Browar Rockmill, Poland.
Belgium maintained its leadership with 79 awards, followed by the United States (31), Italy (30), the Netherlands (23), Brazil (16), France (13), Canada (10) and China (9). The competition is getting increasingly international with entries from 36 countries this year, including Australia, South Korea, Bolivia and Ukraine.
New England IPA (NEIPA) is the fastest growing category with 43 entries, while Belgian Tripel (71), Belgian Witbier (46) and Herb and Spice (44) are the most popular. The categories Alcohol Free and Low Alcohol are also gaining ground.
A list of all winners can be found at brusselsbeerchallenge.com/en.