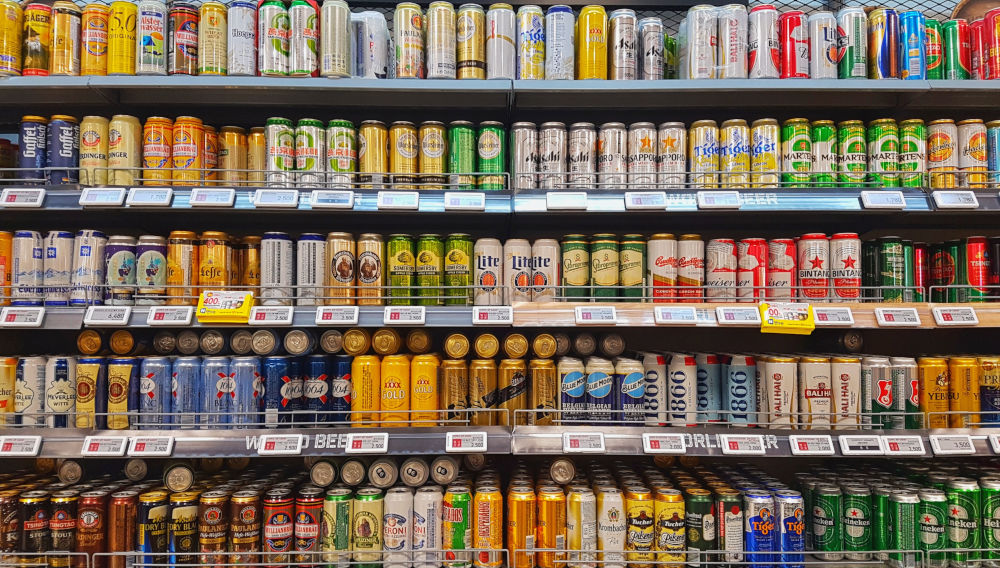 04 August 2023
World hop and beer market 2022/2023
Latest BarthHaas Report | It is always eagerly awaited, and on 25 July 2023 the time had come again: as part of an online press conference, hop trader BarthHaas from Nuremberg presented its report 2022/2023 with the latest figures on the world hop and world beer market.
According to the BarthHaas Report, 19 per cent fewer hops were harvested in 2022 than in the previous year. Although the acreage remained almost the same, the global harvest volume fell by 24,200 t to 107,000 t. This was due to extreme weather conditions, which caused a decline of 17,800 t in Europe alone.
Acreage and alpha volume decreases
After eight years of continuous expansion, hop acreage declined in crop year 2022 for the first time since 2014. The decline was very minor, however, amounting to only 96 ha, or 0.2 % of total acreage. The total planted hop acreage worldwide was 62,802 ha. In the USA, the largest hop-growing country, the acreage declined by 438 ha to 24,758 ha. Germany remains number two with 20,605 ha (-16 ha), followed by the Czech Republic with 4943 ha (-29 ha). The USA and Germany account for 72 per cent of the acreage, with the two hop-growing countries accounting for 76 per cent of the hop volume harvested in 2022.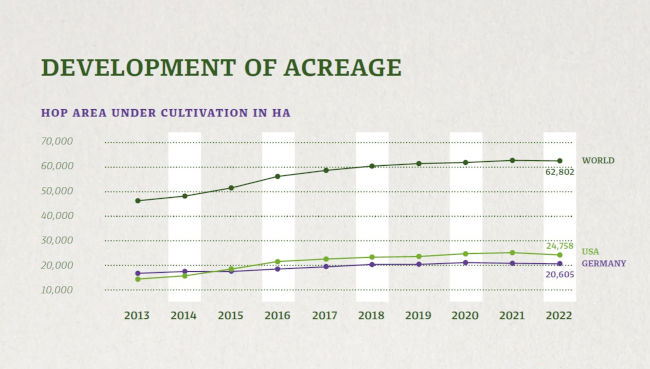 At 10.2 % (ToP), the average alpha acid content of all the varieties harvested was significantly below the previous year's record. The combination of very low crop volume and at best average alpha content resulted in an alpha volume that was far below any seen in previous years. The volume of alpha acid harvested was 10,835 mt, a year-on-year drop of 24 percent (approx. 3,300 mt). "Due to the oversupply from the three previous crop years there will not be a supply shortage despite the poor crop year 2022," explained Heinrich Meier, editor of the BarthHaas report.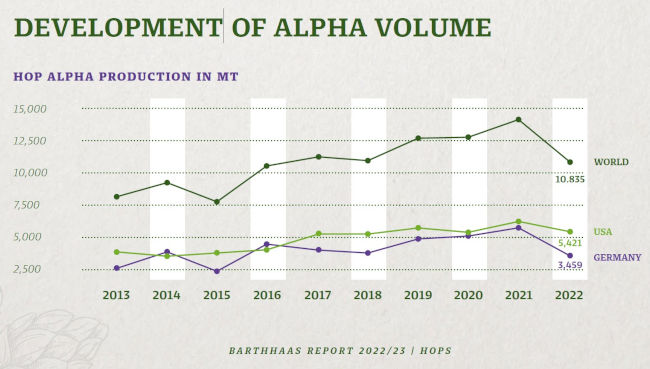 It is rather the extreme weather conditions that are causing concern. " As we will very probably be confronted with such challenges more and more often in the future, our aim is to counter them worldwide," said Peter Hintermeier, Managing Director of BarthHaas. Many of the older regional varieties that are well established and loved by brewers around the world are unable to realize their full potential in these changing climatic conditions. New, sustainable cultivars that are better able to tolerate drought stress, for example, or are more resistant to disease and thus require less use of pesticides, will serve the entire industry with regard to safeguarding raw materials.
World beer market grows in difficult times
The outlook is much brighter for the international beer market: despite the worldwide economic crisis, output grew by 1.3 per cent to 1.89 billion hl last year, which is better than forecast. However, the level of the last pre-pandemic year 2019 (1.91 billion hl) has not yet been reached again. "A year ago, we had expected the global market to decline, as Russia and Ukraine produce about five per cent of the world's beer. Against this background, we can be quite satisfied with the slightly positive result," Hintermeier commented on market events.
German brewers on course for growth
After the difficult previous year, many German breweries made strong gains in 2022; overall output rose by 2.8 per cent to 87.8 million hl. Germany thus remains in fifth place, behind China, the USA, Brazil and Mexico. Together, these five largest producing countries produce 49 percent of the beer brewed worldwide.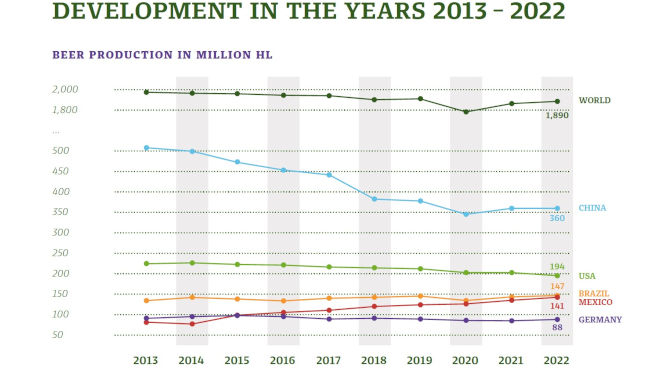 The European market recorded only a slight increase of 0.6 per cent to 516 million hl. Things looked better in the European Union with +2.8 per cent. In addition to Germany (+ 2.4 million hl), Spain (+ 3 million hl) achieved significant growth. The sharp drop in production reported for the remainder of the countries in Europe – output fell by 3.9 per cent – is primarily due to the fall in output in Ukraine (- 4.8 million hl).
Upwards trend
In the Americas, output rose by 6.1 million hl; however, the development in the different countries was very heterogenous in 2022: There was strong growth in South America (+ 5.3%), with the highest growth in volume terms in Brazil (+ 4.4 million hl). In North America, growth in Mexico (+ 6.3 million hl) was insufficient to compensate for falling output in the USA (- 10.1 million hl). In total, a loss of 1.2 percent was recorded here. The Central America/Caribbean region also registered falling output. Overall, beer output fell by 6.9 per cent.
In Asia, China has by far the highest beer output with 62 per cent. As in 2021, around 360 million hl were produced there. The Asian countries with the largest total increases in 2022 were India (+ 3.5 million hl), Thailand (+ 2.6 million hl), South Korea (+ 2.3 million hl), the Philippines (+ 1.5 million hl) and Japan (+ 1.3 million hl). Overall, sales in Asia rose by 1.5 per cent to 579 million hectolitres last year, despite the decline in output in Vietnam and Cambodia (both - 3 million hl).
In a comparison of the continents, beer output grew most in Africa in percentage terms (+ 4.6 %), here mainly due to South Africa (+ 2.8 million hl), Ethiopia (+ 1.5 million hl) and Angola (+ 1 million hl). Total output was reported as 151 million hl in 2022.
Difficult forecasts
Accurate forecasts for the world beer market in 2023 are difficult to produce. The effects of the Ukraine war are still clearly noticeable. "The skyrocketing costs for energy, raw materials and labour remain at a high level and there is no silver lining yet", Hintermeier said. "Nevertheless, we expect a slight increase, so that we should be able to reach roughly the level of the pre-Corona year 2019 again."