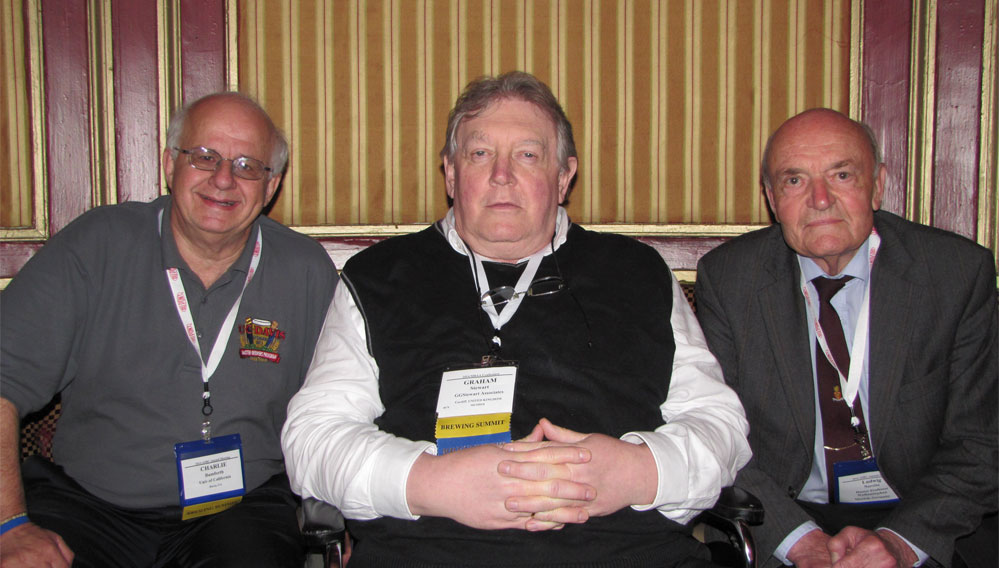 16 February 2023
Prof. Ludwig Narziß, FIBD, 1925–2022
The brewing industry mourns Prof. Ludwig Narziß, who passed away on November 29, 2022 at the age of 97. He was a passionate brewing scientist who had been involved in the brewing industry throughout his life.
Prof. Ludwig Narziß was born in Munich on September 30, 1925 and grew up in Nuremberg. As a young adult he personally experienced the Second World War. His father was an authorized signatory at the Lederer Brewery and had planned a commercial apprenticeship at the Tucher Brewery for his son, who had returned home from captivity. Of his own accord, Ludwig Narziß soon switched to an apprenticeship as a brewer, which appealed to him more – the right decision, as it turned out. Despite the difficult conditions in the brewery after the war, he successfully completed his apprenticeship after two years in October 1947 and in 1948 switched to the Faculty of Brewing in Weihenstephan to study, where a long career began.
From 1951 he initially worked for two years as a research assistant and management consultant in the field service of the research institute for brewing at the Bavarian State Trade Institute in Nuremberg, where he also met his wife Dorle. In 1953, Prof. Weinfurtner recruited him to the State Brewery Testing and Research Institute (today the Weihenstephan Research Centre for Brewing and Food Quality) in Weihenstephan and offered him the opportunity to study for a doctorate (topic: "The influence of the yeast variety on beer quality") which he completed in 1956.
After completing his doctorate, Prof. Narziß first went back into business: he worked at the Löwenbrauerei in Munich as first brewmaster and authorized signatory until 1964, before he returned to Weihenstephan. Between 1964 and 1992 he held the Chair for Technology at Brewery 1 of the Technical University of Munich in Weihenstephan, where he trained and shaped generations of students. Many ground-breaking innovations in brewery technology and technology occurred during this time, which Prof. Narziß initiated and managed. There was hardly an area in the brewery that could not be further developed through research from his chair: raw material issues, developments in malting, in the brewhouse, in fermentation and storage or in filtration. It was a basic need of Prof. Narziß to solve practical problems through scientific research; whilst often about optimizing production, it was of course also about improving the quality of the product. One of the most important research topics from his time was the avoidance of spoilage from oxygen in beer.
Hundreds of graduate students and over 50 doctoral students have worked on various topics under his expert guidance. He was a "doctor father" to them, with whom some of the former doctoral students have remained in close contact to this day. What distinguished Prof. Ludwig Narziß was his closeness to people. Despite the great international recognition, he maintained his humble and lovable manner towards everyone. He challenged his employees – he was strict in this matter – but he also promoted them to the best of his ability.
Hundreds of publications
Many books, including classics of brewery technology, and hundreds of publications and lectures have emerged from his scientific work. All of this has made him a world-renowned brewing scientist whose expertise was valued by authorities, associations and breweries around the world. Prof. Narziß has not only significantly shaped the faculty for brewing in Weihenstephan, but also the reputation of German brewing science in general at home and abroad. It was always important to him to ensure dialogue between the brewing industry and brewing science, between research and brewing practice. It is only logical that a research prize, the Ludwig Narziß Award for Brewing Science from BrewingScience, bears his name.
International recognition
Prof. Ludwig Narziß joined the Institute of Brewing in 1965, after being nominated by the late Norman Curtis. He was elected President of the EBC Council in 1981, with the 19th EBC Congress being held in 1983 on the South Bank in London where, in collaboration with his EBC/IOB colleagues, he played a major role in the organisation of this event and 1600 delegates attended it. During the course of this Congress he had the opportunity to co-author a poster presentation (they were still very much in their infancy at that time) entitled "Composition of Worts and Beers of High Temperature Wort Boiling Systems".
Prof. Narziß also participated in one of the Institute's London Section Cambridge meetings, also with Norman Curtis who was the London Section's Chairman at the time. In addition, he was a participant in the Master Brewer Association of the Americas Ontario District One-Day Conferences that were held in Toronto each January and he also was a participant in a number of the Association's National Conferences.
Prof. Narziß was awarded the IBD's Horace Brown Medal in 1990 and the accompanying lecture, 125 Years Research At Weihenstephan, was delivered at the Royal Society in London and published in the Journal of the Institute of Brewing in 1992.
Many awards and honours
Commitment to voluntary work at home and abroad was also a matter of course for him, for example his 1979 election as President of the European Brewery Convention (EBC) in Brussels. To this day he is the only honorary president of the EBC. Prof. Narziß was the bearer of the Cross of Merit of the Order of Merit of the Federal Republic of Germany as well as receiving many other honours and awards.
In 1992, Prof. Narziß handed over the management of the chair to Prof. Werner Back, but retained his research spirit, which kept him very active to the end. At the age of over 90, he was still traveling the world to attend brewing industry events and give lectures.
In spring 2021 he moved from Freising and Weihenstephan, the centre of his life for many years, to his family, who live near Reutlingen. Even if things got a little quieter around him, he still worked on his books every day, kept himself up to date with telephone calls.
The contribution given by Prof. Ludwig Narziß to the brewing industry internationally has been unique and we have lost a truly remarkable icon!
Lydia Junkersfeld, Graham Stewart, Charlie Bamforth