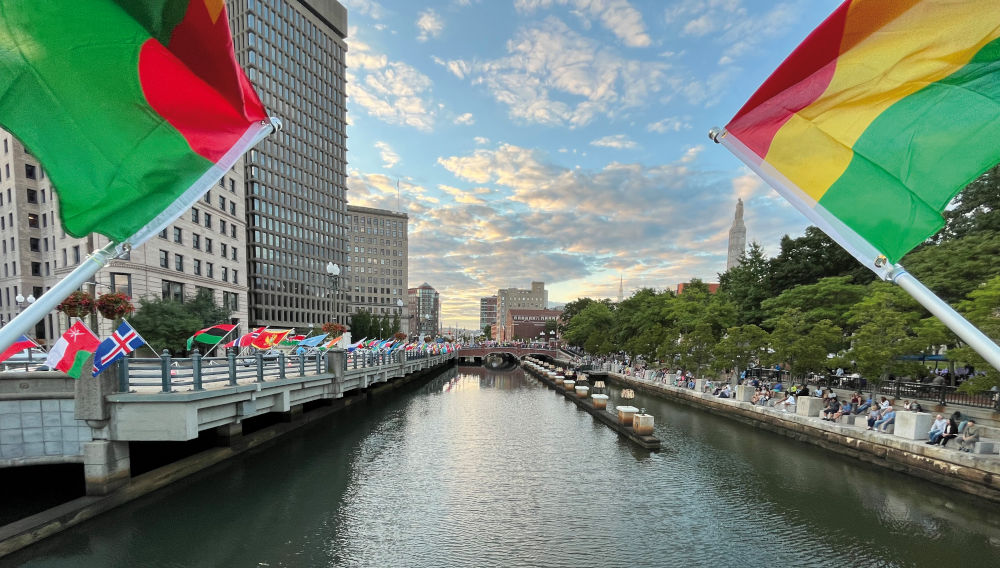 07 October 2022
ASBC and MBAA Brewing Summit 2022
Extensive programme of talks | Every four years the American Society of Brewing Chemists (ASBC) and Master Brewers Association of the Americas hold their joint Brewing Summit. This year the brewing industry met in beautiful Providence, Rhode Island (USA), from 14–16 August 2022, to discuss the latest trends, developments and challenges in brewing today.
Over the course of three days participants were able to join various interactive panel discussions, scientific sessions and practical workshops. In total, over 40 different sessions of talks presenting the industry's latest technologies and methods were offered at the congress. The respective technical sessions focussed on analytics, ingredients, sensory science, yeast and microbiology, sustainability, brewery technology, alternative beverages, raw materials, fermentation, hops and quality assurance. The extensive general programme was supplemented by a specialist exhibition including a poster session and plenty of opportunities for social and professional networking.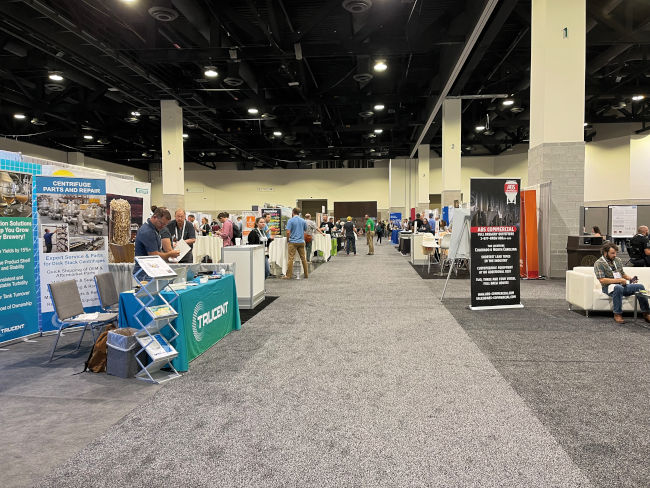 Those who arrived a day early were able to take part in the Boston Brewery Tour and visit three local breweries, namely Jack's Abby Craft Lagers, Trillium Brewing Company and Boston Bier Co. Afterwards, the evening was spent relaxing on the riverside at the famous Providence Waterfire Festival before the programme kicked off the next day with a number of pre-meeting workshops.
Sustainable future
Brewing Summit 2022 was opened by keynote speaker Sandra E. Taylor, CEO of Sustainable Business International, with a talk on building brand equity through sustainability and social purpose. With inspiring examples from her time as senior vice-president of Corporate Responsibility at Starbucks Coffee Company in Seattle, where she was responsible for the development of responsible, ethical and sustainable standards for coffee, tea and cocoa supply chains, among other tasks, she introduced her audience to the key topic of this year's conference: brewing for a sustainable future.
Sustainability also includes the responsible handling of packaging materials. Katherine Shayne from Can I Recycle This (CIRT) and Andrew Dagnan from Wicked Weed Brewing thus spoke of the implementation of sustainable systems that recycle reusable raw materials. Recycling packaging materials can reduce waste, save valuable resources and cut CO2 emissions. The problem here, however, is that recycling standards vary from place to place, especially in the United States. What's known as "connected packaging" is to help consumers consciously dispose of their packaging here by providing locally relevant information on the possible recycling points for the specific product. What's more, in the future manufacturers should further increase the circularity of their products using the data collected to replace the material or redesign the product if necessary.
With regard to climate change and the associated increase in mould, the work of Harmonie Bettenhausen from Hartwick College Center for Craft Food and Beverage, USA, offers a new approach to a very familiar problem. Brewing grain infected with Fusarium spp. continues to be an aspect that has a considerable detrimental effect on quality. The use of infected grain can result in the formation of mycotoxins (poisonous mould), thus reducing the quality of the malt. In the course of micromalting experiments, the use of peracetic acid (PAA) in the steep water was examined for effectiveness in reducing the Fusarium infection and associated production of the mycotoxin deoxynivalenol (DON). When used as a pre-steep rinse at a concentration of up to 870 ppm, the antifungal effect of PAA was effective in reducing both the infection rate and vitality of Fusarium spp. on the grain as well as reducing levels of DON in the finished malt while preserving germination. According to Bettenhausen, the results of the study suggest that this is a promising method for the treatment of infected brewing grain.
Alternative raw materials
The processing of alternative gluten-free grain types is the subject of research being undertaken by Andrew Ledley from Pennsylvania State University, USA. Brewing with gluten-free malts has proved difficult to date owing to their lower enzyme activity. Ledley claims that the higher starch gelatinisation temperature is the main factor hindering the generation of fermentable sugars, however. Efficient starch breakdown is thus very difficult to achieve using standard infusion mashing methods. With the help of an optimised mashing protocol for gluten-free malts, which has already been registered for patent, enzyme activity could be maintained and high concentrations of fermentable sugars generated. Furthermore, in the case of millet, enzyme extraction and consequently thermostability could be increased through the degree of milling. By investigating and adjusting further processing parameters, the use of alternative raw materials to make gluten-free beer can be constantly improved.
Stefan Ritter from the Chair of Brewing and Beverage Technology at the Technical University of Munich is also researching alternative ingredients to make innovative acidic fermented beverages with a refreshing taste. The focus here is on legumes and pulses such as lupines and fava beans: they are low in fat, gluten- and cholesterol-free and with their high protein content constitute an ideal ingredient. There is one challenge to be overcome here, however: the aforementioned legumes contain larger amounts of raffinose, an oligosaccharide that cannot be cleaved by human digestive enzymes. It passes into the large intestine where it is broken down by the intestinal microflora and gas is produced. In order to decompose these undesirable oligosaccharides, at the TUM an age-old method used by brewers was applied: germination. Here, enzymatic activity considerably reduced the amount of raffinose. In addition, a positive effect on the protein size distribution and aroma profile was observed. Ritter thus concludes that malting makes pulses a promising raw material for the future.
Hops were also a focus of attention at the summit. In an interactive workshop, participants were trained as sensory panellists to detect smoke-tainted hops impacted by the wildfires of the past few years. During the workshop reference standards and blind-coded samples were smelled and assessed.
Ryan Gregory from Hopsteiner, USA, spoke about sustainability in hop production. "Brewers must consider the environmental impact of all of their ingredients, including hops, if they want to assess the sustainability of their products," he believes. Over a period of four production years, data on cone and alpha acid yields and the carbon dioxide equivalents from all production inputs was compiled for several commercially available varieties of hop in order to assess the total carbon footprint per variety. On comparison, this sustainability study found significant differences in CO2 equivalents between the various types of hop, with results ranging from 0.65 to 3.31 pounds per leaf hop yield, for example. In the future, this carbon footprint can help brewers to select more sustainable hop varieties.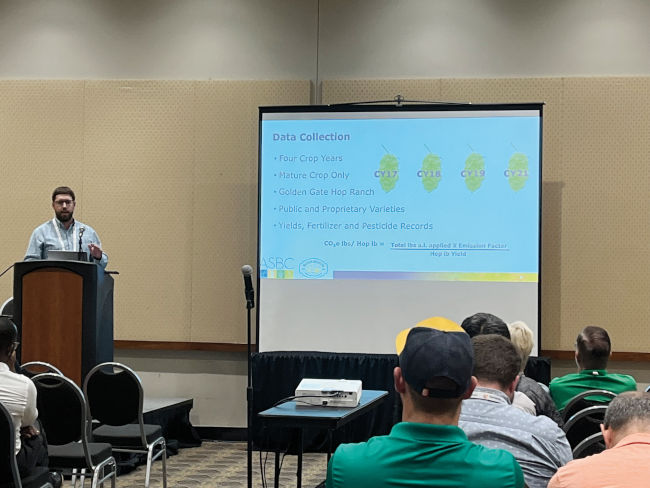 The research undertaken by Richard Molitor from Oregon State University, USA, looks at sustainability from a very different angle. Using genetically modified yeast strains (S. cerevisiae), he has been able to release polyfunctional thiols from conjugate precursors that occur naturally in both hops and malt. Polyfunctional thiols are responsible for tropical flavours such as guava and passionfruit in hop-forward beer styles. The two most important representatives here are 3-mercapto-1-hexanol (3MH) and 3-mercaptohexyl acetate (3MHA). Without any change in the fermentation performance, sensory analysis of the finished beer found clear associations with tropical flavour attributes with the genetically-modified yeasts, while the parent strains were perceived as being herbal and resinous. Analysis using LC-MS confirmed significantly higher levels of 3MH and 3MHA with the use of the genetically-modified yeast strains. It's conceivable that in future this technology can be applied to offer novel flavours while conserving resources.
The work of yeast researcher Chris Powell from the University of Nottingham, GB, on the other hand, centres on stressed yeast cells. During the brewing process the cells are subjected to a range of challenges, including osmotic and oxidative stress that in turn has an impact on the fermentation performance of the population. His latest research has revealed cell heterogeneity within a yeast population that has proved to be an inheritable characteristic. With the help of fluorescent stains, Powell visualised individual yeast cell constituents such as mitochondria, vacuoles and cell membranes to clarify causes of variation. Through a greater understanding of yeast physiology in relation to stress situations, his hope for the future is that particularly suitable strains of yeast are put to targeted use in production.
The above are just a few examples from this year's extensive range of talks. Brewing Summit 2022 was a successful, well-organised conference that, after two years of pandemic, finally allowed the brewing industry to again exchange its ideas and network in person.
The next ASBC Meeting is planned for 4–6June 2023 in Pittsburgh, PA (USA), with the Master Brewers Conference to take place in October 2023.