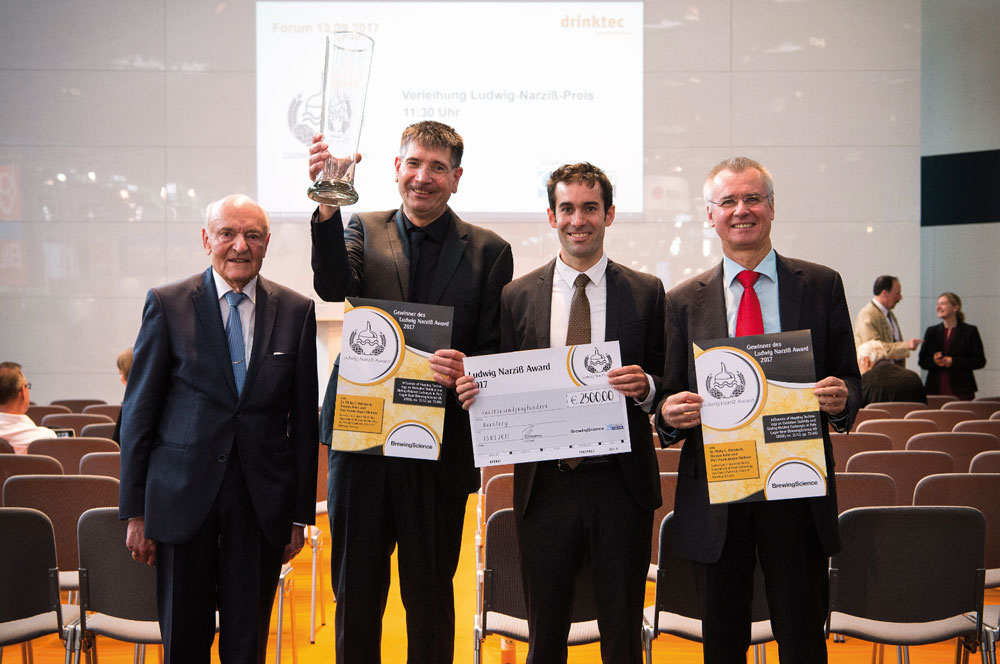 06 October 2017
Ludwig-Narziß-Award for brewing science goes to TU Berlin
On September 13th, 2017 the third Ludwig-Narziß- Award for brewing science was bestowed at the drinktec trade fair in Munich. In her opening address, Dr. Lydia Junkersfeld, Editor-in Chief of BRAUWELT International, emphasized that the Award, endowed with EUR 2,500 and a trophy of Sahm GmbH & Co. KG, Höhr-Grenzhausen, Germany, is designed to honour authors for publications in the scientific journal BrewingScience the results of which are particularly relevant for application in brewing. The most important criterion is the transfer of science to brewing. The Award was initiated mainly by former PhD students of Prof. Ludwig Narziß. The price money is managed by Weihenstephan Jubilee Foundation 1905 in the Association of Weihenstephan Alumni of the Department of Brewing (VeW).
Dr. Jörg Lehmann, Kulmbach, Chairman of the Association of Weihenstephan Brewing Studies Alumni, explained the assessment procedure to determine the most relevant research paper: The submissions of one publication year are revised by an international jury, composed of 54 experts from nine countries and four continents, and, after positive assessment, released for publication. In 2016, 17 submissions out of 24 were selected for publication and one of them was elected for the Ludwig-Narziß-Award 2017.
The Award went to Dr. Philip C. Wietstock, Thomas Kunz and Prof. Dr. Frank-Jürgen Methner of TU Berlin for their contribution "Influence of Hopping Technology on Oxidative Stability and Staling-Related Carbonyls in Pale Lager Beer".
In his laudatio, Prof. Narziß emphasized that flavor stability was still an "exciting topic" for him and called the awarded publication an "excellent continuation" of existing research papers on this topic, including new approaches.
Keywords
Source
BRAUWELT International 2017