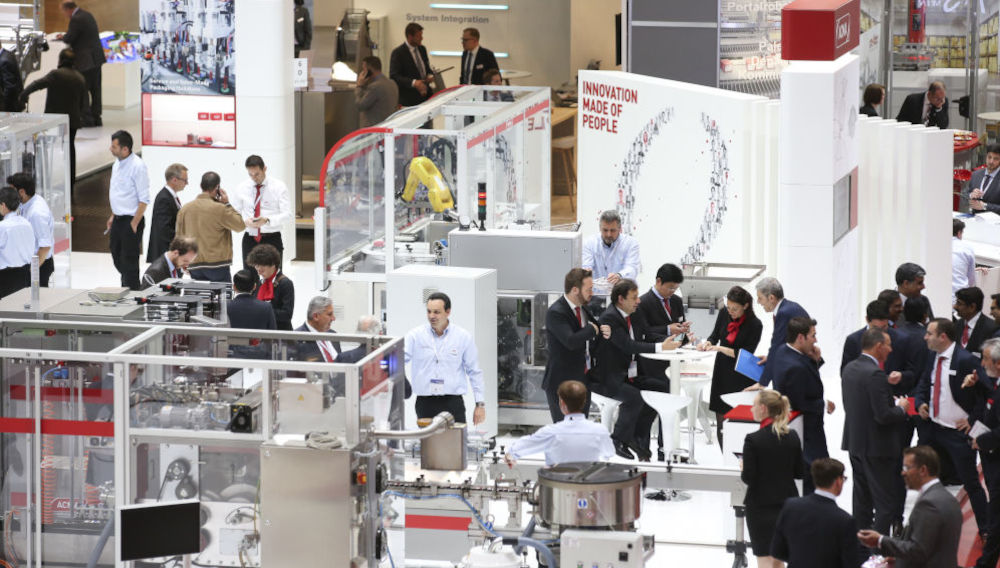 17 March 2023
Interpack to take place in May
Packaging trends | Exhibitors and visitors from all over the world will be coming together at the interpack from 4 to 10 May 2023 to present their premières, and celebrate the long-awaited reunion of the global packaging industry. The focus is on packaging materials, packaging machines and related process technology for the food, beverage, confectionery, bakery, pharmaceutical, cosmetics, non-food and industrial goods sectors.
The organisers await approximately 2,700 exhibitors, among them global suppliers of process and packaging technology like Syntegon Technology (hall 6) or Multivac (hall 5, among other locations).
Sustainable packaging and technologies
There is also a lot to discover in the area of sustainable material innovations and sustainable packaging in general. Visitors can expect many novelties, for example at Metsä Board (hall 8a). The company specialises in the development of light cardboard and recyclable barrier cardboard. Packaging systems by Schütz are used a million times every day the world over. At interpack, the company among other things presents novel products like the Green Layer series, which aids customers in minimising their carbon footprint (hall 10). Starlinger offers machines for producing woven plastic sacks, as well as systems for recycling plastics, and extruding and refining PET (hall 8a). With flexible filling and packaging machines for the market segments pharmaceuticals, consumer goods, paper hygiene and medical products, the Optima packaging group supports companies worldwide. At interpack, the focus is on sustainable solutions (hall 16). Romaco Holding presents sustainable, innovative machine concepts to lower carbon emissions and production costs and offers laboratories for granulation, pelleting, pellet coating, filling technologies and consulting for sustainable packaging (hall 16).
Labelling and other topics
The marking and labelling world is of course also present at the fair, and visitors can learn how to mark products safely, efficiently and in an intelligent manner, for example at the booths of Bluhm Systeme or Langguth GmbH (both hall 8b).
Numerous specials, like the lecture programme in the spotlight talks & trends as well as trending topics of the industry add to what is offered for visitors. Hot topics this year will be circular economy, resource conservation, digital technologies and product safety.
Further information is available at www.interpack.com.