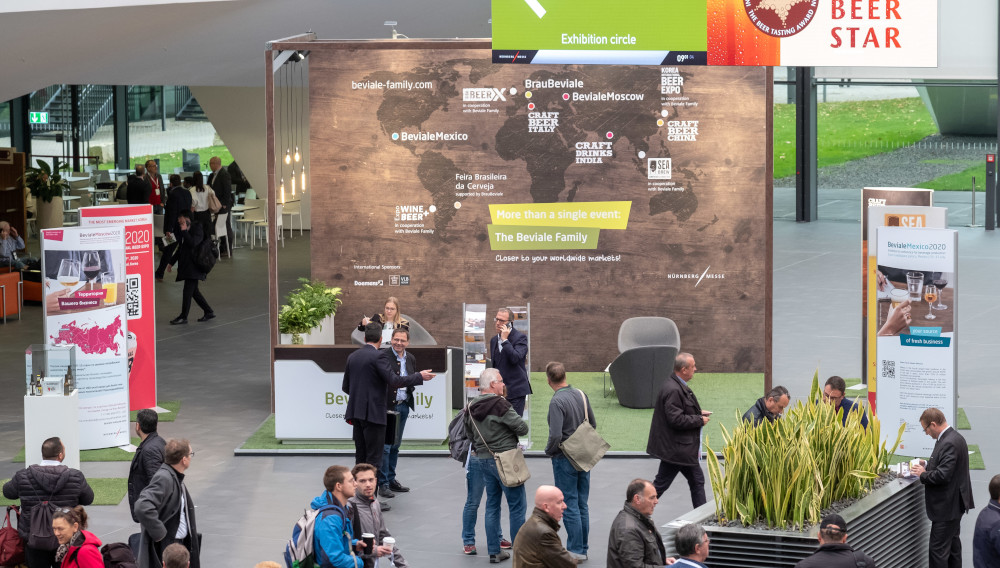 14 January 2021
Three Beviale Family events in spring 2021
Key growth markets | In spring 2021 three Beviale Family events are planned around the globe: in Mexico, Russia and Korea. In addition to BrauBeviale in Nuremberg, the Beviale Family is active in around ten countries worldwide in the key growth markets. Now it's time to prepare the post Covid-19 era.
Beviale Mexico 2021 as eSpecial
Central America's first beverage fair for the entire production chain, BevialeMexico 2021, originally scheduled to open its doors from 2 to 4 March 2021, will now take place online as an eSpecial in March 2021.
To make it easier for industry professionals and other interested parties to take part while continuing their everyday business, the event has been staggered over three dates. On 16, 23 and 30 March 2021 the online platform will offer live activities like presentations, seminars, and discussion panels, which can also subsequently be downloaded on demand.
The networking platform including all features and services will be available to the industry over the entire period. The Beviale Mexico eSpecial 2021 offers companies and other participants attractive networking opportunities via numerous digital communication channels, virtual meetings and innovative online presentations.
Suppliers can use the platform to present their products and solutions, while visitors can specify their needs, objectives, and interests. Based on this information, the intelligent matchmaking tool uses filters to find exactly the right contacts, making it easier to take a targeted approach.
Beviale Mexico is the latest addition to the Beviale-Family, NürnbergMesse Group's global network for the beverage industry, in Central America. The steadily growing market for beverages in the region means that there is greater demand for the associated equipment. Beviale Mexico sees itself as a facilitator between nationally and internationally operating beverage manufacturers and suppliers to the drinks industry. For details and dates go to: beviale-family.com
Beviale Moscow 2021: new location, new date
To prepare the best possible framework for staging the event in 2021, Beviale Moscow is relocating to the "Main Stage" event venue in the centre of Moscow. The date of the event for the Russian and international beverage industry has been moved forward by a week and it will now take place from 16 to 18 March 2021.
Since its launch in 2015, Beviale Moscow, Russia's first trade fair for the entire beverage production chain, has evolved into an established, popular, and well-supported event for the sector in Eastern Europe.
The trade fair could not be held in 2020 due to the Covid-19 pandemic. As the Sokolniki Exhibition & Convention Centre is likely to be needed for coronavirus-related infrastructure, Beviale Moscow will relocate in 2021 to the "Main Stage" event venue in the centre of Moscow. "Main Stage" was originally a concert and function hall, but also has the facilities to host trade fairs and congresses.
All existing exhibitor registrations and orders such as stand packages are not affected by the relocation and can be realised to the same standard of quality at the new venue.
"We have noticed a substantial demand for Beviale Moscow, not just in Russia but internationally as well," says Thimo Holst, Project Manager Beviale Moscow at NürnbergMesse. "Until the outbreak of Covid-19, we had received our highest ever number of registrations and we therefore feel vindicated in our concept and strategic direction for Beviale Moscow. Consequently, we will do our utmost to make sure that the sector gets its platform in 2021. The new location allows us the greatest possible planning certainty in these current uncertain times. The conversations we have had with exhibitors and partners attest to their loyalty and support for 2021 as well. More than half of the exhibitors previously registered for 2020 and most of our partners have already committed to the event", says Holst. The Russian beer award Rosglavpivo will also be back in 2021.
"We are determined that the basis for the trade fair will continue to be a physical event. Depending on the situation at the time we are expecting to welcome international and Russian companies. Most visitors will be from Russia, so we shouldn't be affected too much by any travel bans that may be in place. At the same time, we are currently working on virtual additions to the event, to give customers who are not able to take part in person the opportunity to still get involved," says Thimo Holst, summing up what exhibitors and visitors can expect in 2021. For more information, please go to: beviale-moscow.com/en
KIBEX 2021: new date and new venue
In 2020 KIBEX in Korea was one of the few events that could take place. But, due to Covid-19, with many international exhibitors unable to participate. This is going to change. The KIBEX team hopes to meet its global participants in the 2021 edition from 17 to 19 May 2021.
KIBEX 2021 is moving to the most well-known exhibition center in Korea, Coex. As the center is very accessible and well-equipped, the organization team is sure that the event will get more interest and an even better business atmosphere. For more information, please check beerexpo.kr/main.