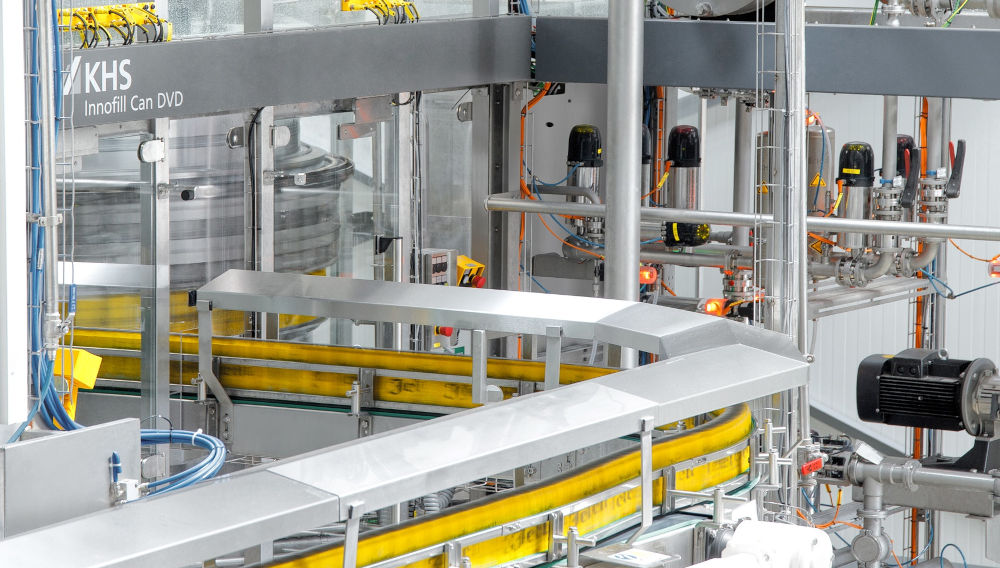 10 December 2021
Apatin Brewery modernizes its production shop and opts for KHS
Long partnership | Molson Coors is one of the biggest brewery groups in the world. The Serbian plant run by its subsidiary Apatinska Pivara Apatin has relied on technology engineered by KHS for over four decades. The long and trusting partnership between the two companies was recently further cemented by conversions to two of the brewery's glass lines and the procurement of a KHS Innofill Can DVD can filler. As a result of these extensive modernization measures, Apatin Brewery has been able to greatly optimize its line efficiency and product quality. The traditional brewery also benefits from improved hygiene and savings in energy and media.
The cooperation between Apatin Brewery and the Dortmund systems supplier dates back to the 1970s and to KHS' predecessor companies Holstein & Kappert and Seitz Enzinger Noll Maschinenbau AG (SEN), who in 1993 merged to form KHS. When in 2014 the brewery decided to modernize a few of its machines – some of them almost 20 years old –, it again went for sustainable systems from its long-term partner KHS. The company first renewed two glass lines and in 2020 invested in the Innofill Can DVD can filler, in order to meet the growing demand for beverages in cans.
The new filler can process up to 25,000 0.5-liter cans an hour. According to the company's own statistics, the output runs to more than two million hectoliters per annum. On the Innofill Can DVD it fills all of its brands into containers holding 0.33 and 0.5 liters, among them Jelen, Jelen Chill, Jelen Cool, Apatinsko, Staropramen, Bavaria, Nikšićko and Nikšićko Tamno. The brewery chiefly supplies the regional market, namely Serbia, Montenegro, Bosnia and Herzegovina, Croatia, Northern Macedonia and Slovenia.
The Innofill Can DVD permits warm filling of beverages at around 20 °C. This method becomes more significant particularly regarding the further processing stages as it practically eliminates the formation of condensation. This more or less rules out the risk of cartons, trays and cans in six packs growing soggy, forming mold or being contaminated by microbes.
The KHS purging process is so efficient that less oxygen enters the containers compared to using conventional methods – despite lower amounts of carbon dioxide being used. Moreover, the volumetric filling principle also improves the filling accuracy.
The can filler was installed during the COVID-19 pandemic and under the restrictions imposed by this. "Thanks to our local presence in Serbia and the Balkans, we were able to carry out all work quickly and efficiently. Travel restrictions and social distancing of course presented us with a challenge or two during the course of our day-to-day activities. However, together with the customer we managed to bring the project to a successful close within the given schedule," states Bojan Culibrk, KHS' local service manager.