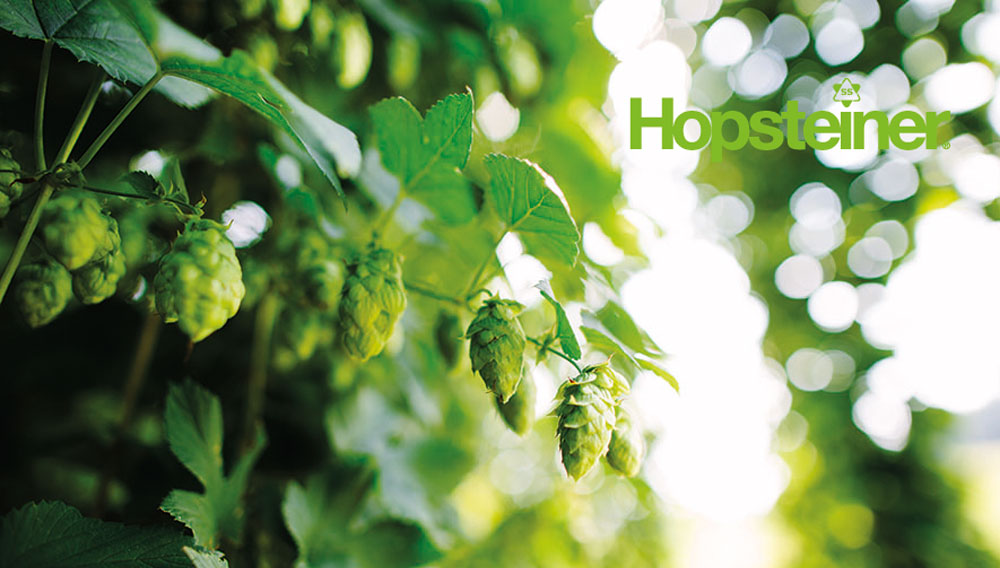 ADVERTORIAL
21 May 2021
Geraniol and Linalool survey results from the U.S. crop 2020 harvest
Technical Support | Oxygenated hop oil compounds, Geraniol and Linalool, when added to the whirlpool and/or during fermentation can take advantage of biotransformation as a result of when yeast converts oxygenated hop oils into floral and citrus tasting compounds (see also January 2019 newsletter).
These aroma active compounds have also been described as working synergistically with each other and volatile thiols (4MMP) resulting in increased aroma intensity in modeled solutions (Ref. 1) which is favorable to produce hop forward beers such as Pale Ales, American IPA's and New England IPA's known as Hazy or Juicy IPA's.
The chart below reflects the top 10 Crop 2020 U.S. varieties for total Linalool and Geraniol [ppm] out of 48 (Graph 2) that were analyzed by the Hopsteiner lab in Yakima, Washington (Ref. 2). Brewers can use this information in formulating recipes with varieties requiring less pounds/bbl. (kilos/hL) to take advantage of the higher Geraniol and Linalool concentrations. Five of the top ten varieties analyzed with the highest levels shown below were developed and released from the Hopsteiner Breeding program at the Golden Gate Hop Ranches in Yakima, Washington.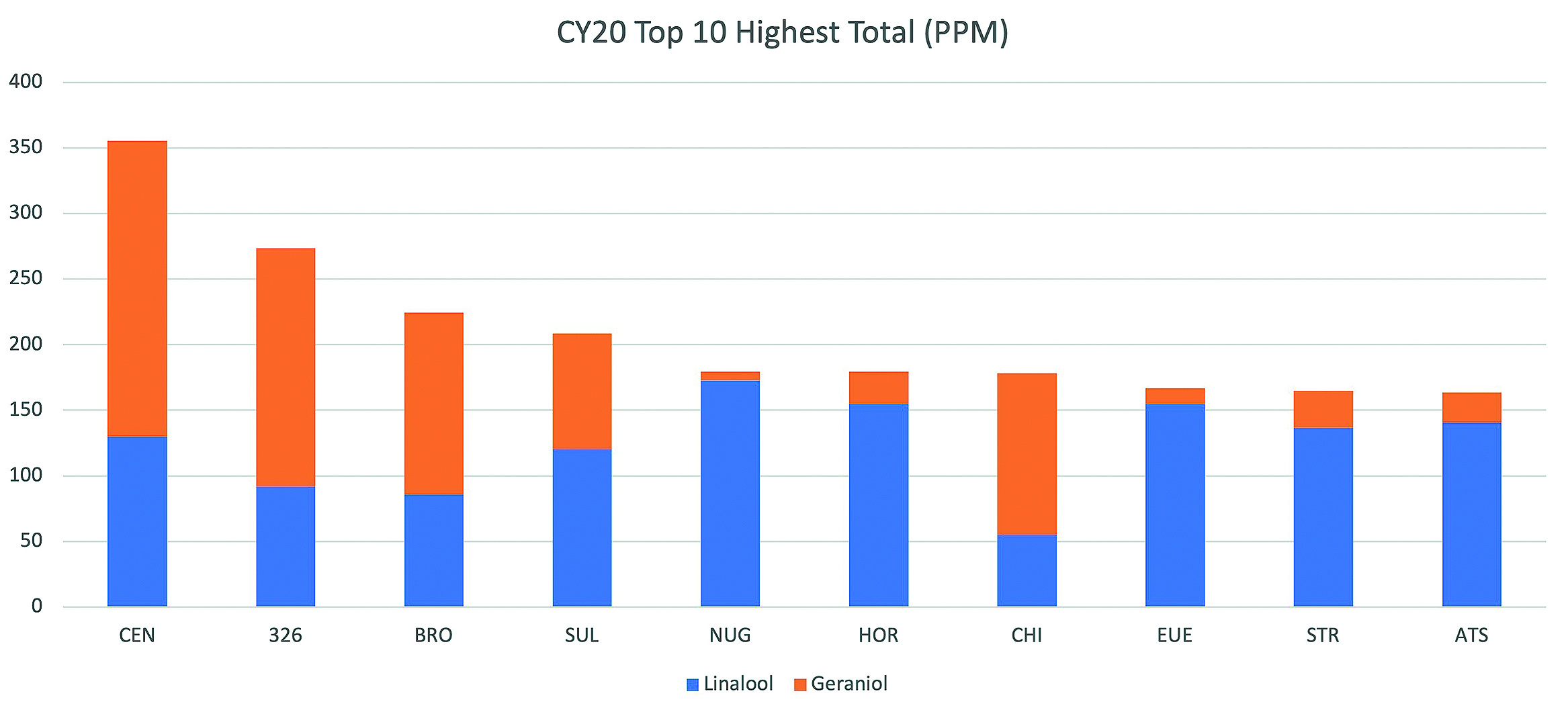 Commercial Hopsteiner Varieties
326 – Hopsteiner Experimental 09326
BRO – Bravo
SUL – Sultana
EUE – Eureka!
ATS – Altus
Commercial Public Varieties
CEN – Centennial
NUG – Nugget
HOR – Horizon
CHI – Chinook
STR – Sterling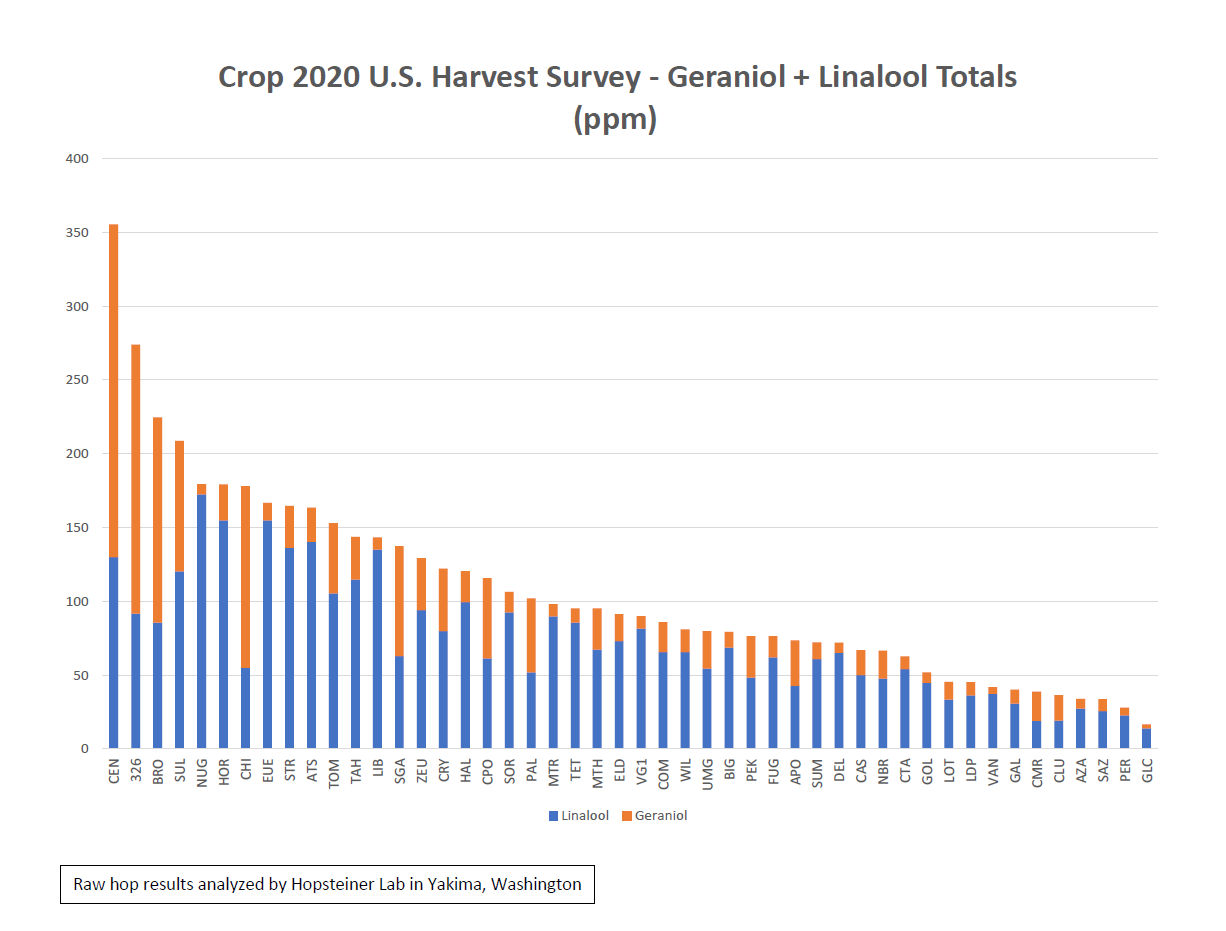 References:
1. Takoi, K., Itoga, Y., Takayanagi, J., Matsumoto, I., Nakayama, Y. (2016) Control of hop aroma impression of beer with hop-blending using geraniol-rich hop and new hypothesis of synergy among hop derived flavor compounds. Brew. Sci. 60:85-93
2. Hopsteiner Crop 2020 U.S. Survey Linalool + Geraniol Totals
Keywords
Source
Simon H. Steiner, Hopfen, GmbH, Mainburg, Germany
Downloads