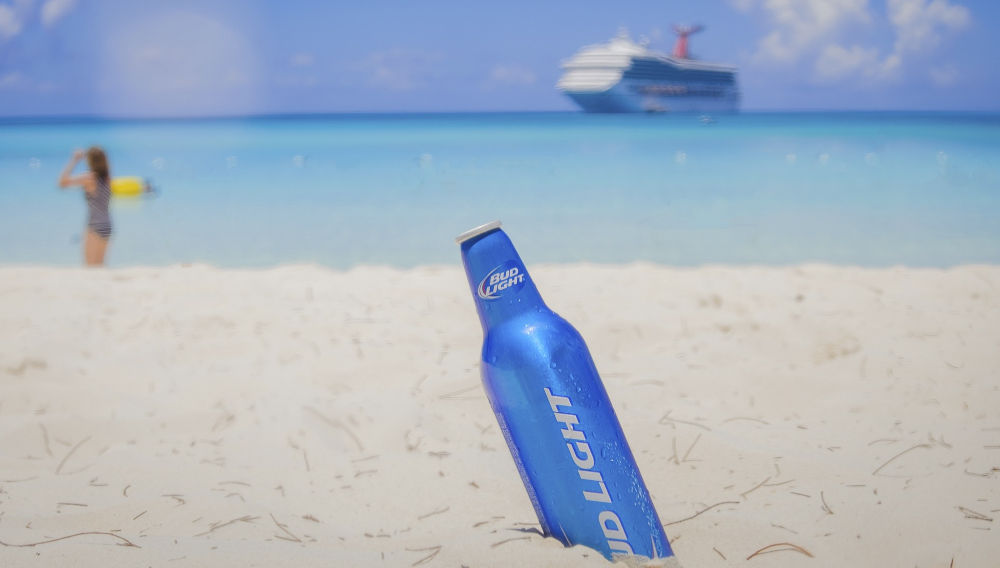 21 April 2023
Bud Light sent some beers to a trans influencer and all hell broke loose
USA | After Dylan Mulvaney promoted the beer on the internet, well-known US conservatives tried to start a boycott. Will the controversy hurt Bud Light in the long run?
The story so far: In early April, Bud Light sent the influencer Dylan Mulvaney some cans of Bud Light. Ms Mulvaney, then, posted a video of herself with the beers to celebrate her first year of womanhood. One of the cans featured her image. It was part of a paid sponsorship deal and promotion for a sweepstakes challenge, where people can win USD 15,000 from Bud Light by sending in videos of themselves carrying a lot of beers.
This upset some regular Joes - not because Ms Mulvaney is a girl but because she is transgender. US commentators said that trans issues are currently front and centre in America's culture war. Anti-trans sentiment is showing up in conservative media and conservative legislation all over the country.
Suddenly, Bud Light found itself in the eye of an anti-trans storm. "Many on the right are calling for a boycott of the bestselling beer in the country. If this all sounds ludicrous, it's because it kind of is. It's also indicative of where we are in the United States today," the left-of-centre newssite Vox media said.
Will this hurt Bud Light?
The answer is: probably not very much. Conservatives will return to drinking Bud Light eventually – as soon as the news cycle quits. Consumer boycotts tend not to be very effective as most people do not respond, let alone stick to them.
The scientific evidence on consumer boycotts shows that they will damage a company's reputation more than they do its bottom line. In this case, it is not entirely clear how much reputational damage is even being done.
Remember that in 2021, during the covid pandemic, thousands of people threatened Heineken with a boycott in the US, after it posted a pro-vaccination advert on Twitter. The boycott must have died down because nothing was ever heard from it again.
Why did Bud Light hire Ms Mulvaney?
The Big Brewers are looking to younger demographics to shore up their existing beer portfolios. Bud Light has been losing volume sales for years. Alissa Heinerscheid, Vice President of marketing for Bud Light, said in a podcast interview in March - before the controversy erupted - that the brand needs to be more inclusive.
"If we do not attract young drinkers to come and drink this brand, there will be no future for Bud Light," Ms Heinerscheid was quoted as saying. She added: "The white male customer who used to drink a lot of Bud Light doesn't anymore, and Bud Light has no choice but to find people who do."
However, her comments were used in conservative media to suggest Bud Light wants to get rid of its core white male demographic. This is far from the case. Bud Light has been losing ground to other beers, such as craft beers and Modelo (Constellation Brands) and Michelob Ultra (AB-InBev), as well as to spirits, for quite some time. It can do nothing but actively look for new customers wherever it can find them
Companies trying to appeal to the queer community is also nothing new. Queer people in the US have an estimated USD 1.1 trillion in annual purchasing power, according to a 2019 report by LGBT Capital, a financial services company. This has not been lost on the Big Brewers.
What can AB-InBev do?
On Friday, 14 April, AB-InBev's North America Zone President, Brendan Whitworth, finally issued a long-awaited statement, which liberal media immediately branded as "decidedly flat and lukewarm".
"As the CEO of a company founded in America's heartland more than 165 years ago, I am responsible for ensuring every consumer feels proud of the beer we brew," he wrote.
He next touched on why he felt obliged to issue a statement without naming the exact reason for why he was making it. "We never intended to be part of a discussion that divides people. We are in the business of bringing people together over a beer," he said.
The former Marine then returned to vague profundities and an appeal to patriotism. "My time serving this country taught me the importance of accountability and the values upon which America was founded: freedom, hard work and respect for one another," Mr Whitworth said.
"I am focused on building and protecting our remarkable history and heritage," he added. "I care deeply about this country, this company, our brands and our partners." Mr Whitworth promised to "continue to work tirelessly to bring great beers to consumers across our nation."
Mr Whitworth's statement is indeed bland. But what else could he say that will not add fuel to the flames? If AB-InBev does not lose its nerve and walks this back, but instead rides it out, this whole controversy will die down. Perhaps, one day, it will even become a textbook case study as to how to deal with an internet-fed backlash.