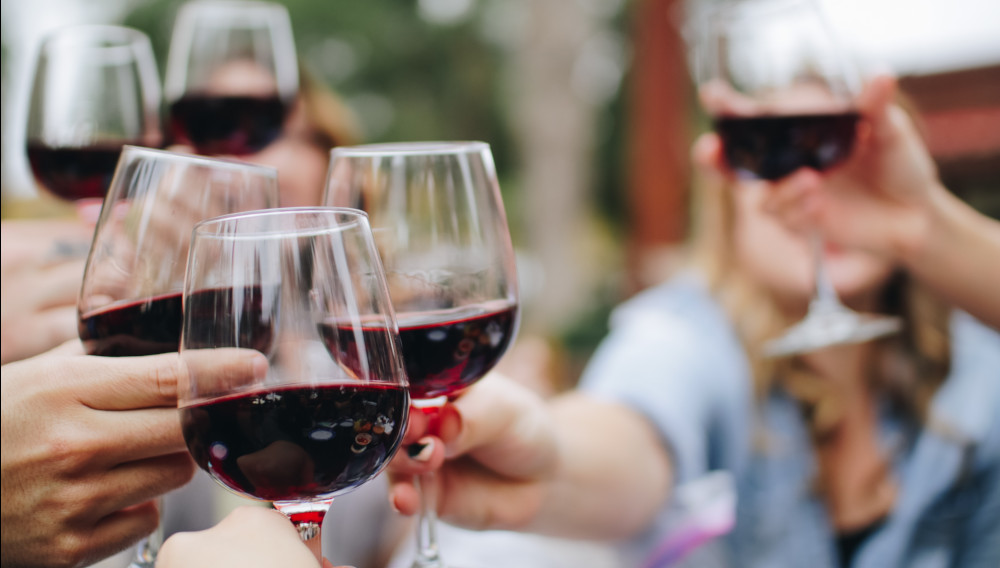 10 December 2021
Many hurdles for Heineken's deal with Distell and NBL
South Africa | No wonder Heineken and Distell were a bit vague about financials. The three-way transaction between Heineken, Distell and Namibia Breweries (NBL), which will create a total beverage alcohol firm in southern Africa, could take a year to complete.
With shareholder approval still pending and regulators also having a say in this, the firm to emerge at the end of this process might look different to the one imagined by parties right now.
There is no doubt that Heineken is ecstatic about the arrangement, Marc Hasenfuss, commented in South Africa's Financial Mail newspaper on 18 November 2021. "But Distell's minority shareholders appear less than enamoured, thanks to a price that falls far short of the ZAR 200 a share that was bandied about when news of the tilt surfaced six months ago."
Some shareholders want more
Heineken's offer is ZAR 180 (USD 11.15) per share, which is a 50 percent premium to the 90-day average before news of the talks first emerged in May. Besides, even before transaction talks were leaked, Distell's share price was relatively high for two years as markets were banking on Heineken eventually making an offer.
The new entity will, for now, be called Newco and will own the Heineken Southern African business, most of Distell's brands and a controlling stake in NBL. If the competition authorities give it the green light, Heineken will own at least 65 percent in Newco and a minority stake in Capevin, an "out-of-scope" company consisting of Distell's Scotch whisky business, in which South African holding Remgro will retain control.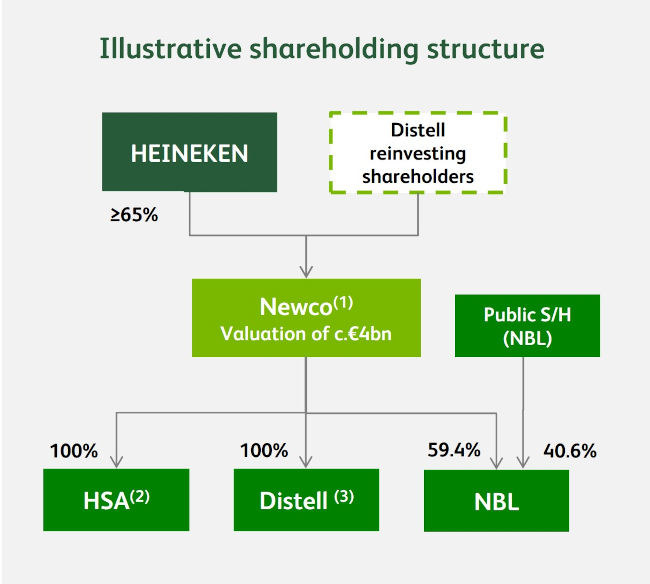 A multi-category portfolio
The array of brands held by Newco will be impressive – including beer brands Heineken, Windhoek, Tafel, Sol and Amstel beers, which will make up 50 percent of Newco's volume; Savanna, Hunter's Dry and Strongbow ciders, which will add 35 percent; wine brands such as Klipdrift, Esprit, Three Ships, Bain's, Nederburg, and 4th Street (10 percent) plus Amarula and Fleur du Cap spirits brands (5 percent).
No wonder regulators might take a dim view of the proposed deal: Newco will be combining some of the biggest cider brands (Strongbow, Savanna and Hunter's Dry) in the world. In South Africa, AB-InBev has launched cider brands like Blakes & Doyle and Solanti, flavoured alcoholic drink Sarita as well as a flavoured beer brand Flying Fish. It has also launched Shine Club Rosé, a box wine shaped as a handbag, to challenge Distell's huge success with its affordable, lower-alcohol boxed wine 4th Street.
High hopes for a boxed wine
Heineken's CEO Dolf van den Brink said, off the top of his head, that 4th Street represents 60 percent of Distell's wine business (in terms of volume, presumably). He was hugely impressed with this brand, "a wine that has made wine less intimidating, and reimagined what wine can be for the African consumer". At 8 percent ABV and drunk on ice, it is more of an RTD really that is made from wine.
If the deal were to go ahead in its present design, Heineken would effectively double its share of the Southern African liquor market. Redburn Research reckons that a combined Distell/Heineken may have as much as 22 percent of liquor volumes in South Africa, but closer to 30 percent of liquor value.
Mr van den Brink already sees serious synergies in building routes to market, estimating that the enlarged entity could access 25 percent more outlets down the line. Perhaps more importantly, Heineken expects the deal to boost margins, with a target of about 17 percent.