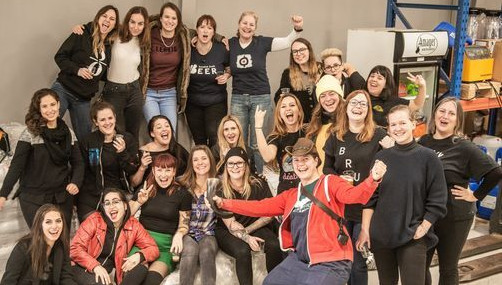 11 February 2022
UC Davis "Pour it Forward" Brewing Scholarship winner announced
Supporting diversity | In January 2022, Mariana da Silva Schneider, a brewer at Amager Bryghus (Brewery) in Denmark, was selected as the winner of the UC Davis "Pour it Forward" scholarship. The crowdfunded scholarship, designed to support diversity, leadership and cross-cultural understanding in the brewing industry, provides full enrollment into the prestigious online UC Davis Master Brewers Certificate Program. Schneider was selected from 31 applicants for the first annual Pour it Forward award.
Schneider has been brewing professionally for 6 years and is the founder of Global Ladies of Wort (GLOW), a nonprofit brewing collective focused on tackling gender bias in the brewing industry. Although GLOW started as a result of the experience of women in the industry, it clearly doesn't end at gender, Schneider said. "This walks hand in hand with LGBTQ visibility, the struggles of the BIPOC community, the lack of representation of persons with disabilities and so on," she said.
"We reviewed many excellent candidates, but Mariana's qualifications, passion and commitment stood out," said Dr. Glen Fox, the Anheuser-Busch Endowed Professor of Malting and Brewing Sciences at UC Davis and the academic director of the UC Davis Master Brewers Certificate Program. "Ensuring equity and equality in an industry takes time, but education and the leadership of brewers like Mariana are the first steps."
The Pour it Forward scholarship
According to a recent survey by the Brewers Association, more than 93% of U.S. craft brewery owners are White (non-Hispanic) and over 75 % are male, highlighting the opportunity to incorporate more diverse perspectives in the industry. The Pour it Forward scholarship was created to support students who are committed to diversity, have experience and/or understanding of the barriers traditionally faced by people from underrepresented populations (based on race, ethnicity, gender, sexual orientation, disabilities…) and demonstrate a high potential for leadership in promoting cross-cultural understanding in the brewing industry.
The scholarship was developed through a crowdfunding campaign, which generated more than USD 21,000 from individual donors and brewing industry partners, including Deschutes Brewery, Yakima Chief Hops, El Segundo Brewing, North Coast Brewing Company, Sudwerk Brewing, Touchstone Brewing Company, Seismic Brewing Company, CLS Farms and Great Western Malting.
The UC Davis Master Brewers Certificate Program
For more than 25 years, the UC Davis Master Brewers Certificate Program (MBCP) has been providing students with an in-depth understanding of brewing science and brewery engineering and preparing them to enter the brewing industry with the potential to rise to the highest levels of leadership within it. The program is committed to increasing representation in the brewing industry and actively works to include diverse perspectives and voices in its curriculum and students. The MBCP partners with the Michael James Jackson Foundation and guest lecturers in 2021 included Garrett Oliver (talking about the need for DEI in the brewing industry) and Veronica Vega (how Deschutes Brewery set up its DEI training program). The program has graduated more than 850 students from more than 20 countries.