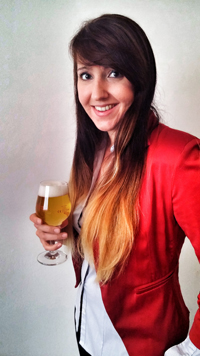 16 September 2016
Two new peer reviewers for BrewingScience
Fachverlag Hans Carl, Nuremberg, Germany, is pleased to announce two new peer reviewers for its scientific publication BrewingScience: Dr. Tatiana Praet, KU Leuven Technology Campus Ghent, Ghent, Belgium, and Dr. Frithjof Thiele, Radeberger Gruppe KG, Frankfurt/Main, Germany.
Dr. Tatiana Praet works as research assistant at the Laboratory for Enzyme, Fermentation and Brewing Technology of KU Leuven. Her major research field is hops (hop aroma, hop oil volatiles, hopping technologies). After havening received her B.S. in Biomedical and Laboratory Technology and her M.S. in Industrial Engineering (chemistry/biochemistry) at KAHO Sint-Lieven, Ghent, Belgium she obtained her doctorate, with a thesis on "Chemical-analytical and sensorial characterization of the 'kettle hoppy' aroma of beer" at KU Leuven in April 2016. Currently Dr. Praet works as a postdoc researcher on a research project on beer flavour stability at KU Leuven.
Dr. Thiele studied Brewing and Beverage Technology at the TU München-Weihenstephan and subsequently did his doctoral thesis at the Institute of Prof. Werner Back where he received his doctoral degree in 2006. From Weihenstephan he went to Ireland and worked as Senior Research Scientist at the University College Cork in the field of Cereal Science. Since 2009 he has been working for the Radeberger Gruppe KG in Germany, where he is responsible for Brewing Technology and New Product Development. His technological work focuses on brewhouse technology, fermentation technology and yeast as well as filtration. Dr. Thiele is a Member of the DBMB, VEW and ASBC.