ADVERTORIAL
11 October 2019
Record Acreage for U.S. Hops in 2019
The growth of craft brewing in the U.S. and abroad has driven demand for aroma hop varieties, resulting in new acreage establishment and replanting of extensive portions of U.S. hop acreage since 2012.
For the third consecutive year, the U.S. hop crop broke the 100-million-pound mark, with 2019 post-harvest estimates similar to last year's production of 108 million pounds. The June USDA National Agriculture Statistics Service acreage report estimated that 57,339 acres were strung for harvest this year in Washington, Idaho, and Oregon, a four percent increase over 2018.
Hop Growers of America estimates another 2,386 acres in additional states, pushing the total to 59,725 acres (approximately 24,170 hectares). Since 2012, U.S. hop acreage has doubled (from 29,683 acres) to the highest level in history, with the largest acreage and production of any country. Germany followed with 50,452 acres. These two countries produce over 76 percent of the world's hop crop.
Citra® HBC 394 retained the number one spot for U.S. acreage in 2019, with 9,035 acres representing 16 percent of the Pacific Northwest total. Cascade, which held the top spot for five years, has been number two for the past two years. It is notable that during this two-year timeline Citra has eclipsed Cascade by 4,000 acres, demonstrating the agility of the U.S. hop industry in responding to the dynamic flavor requirements and influence of craft beer styles.
Simcoe® YCR 14 and Mosaic® HBC 369 claimed the third and fourth spots for acreage. Super alpha Zeus came in fifth, with Centennial falling to sixth place. The top five varieties now account for 50 percent of U.S. hop acreage, while the top 10 represent nearly 75 percent. The top 10 varieties feature five public and five proprietary varieties, with proprietary varieties accounting for over half of 2019 acreage.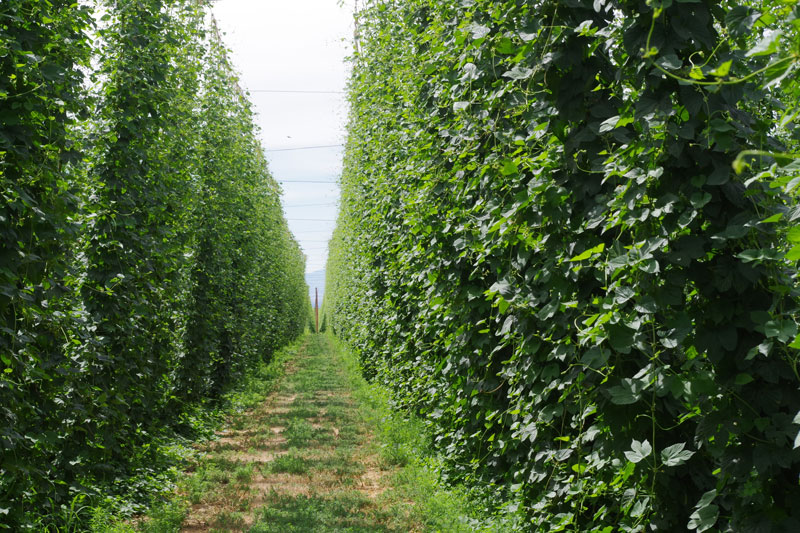 Pacific Northwest
In the Pacific Northwest states of Washington, Oregon, and Idaho, 96 percent of U.S. hop acreage is represented by multi-generation family farms averaging 700 acres. Ten of these large farms account for 50 percent of acreage. Varietal changes fueled by demand for hop-forward beers have resulted in acreage shifting to 76.5 percent aroma and 23.5 percent alpha varieties. Only seven years ago, alpha and aroma hop acres were nearly equal. Between new acreage and conversion of existing acreage to new varieties, Pacific Northwest hop growers reported nearly 7,500 acres of "baby" (first year on the string) hops this year, representing 13 percent of acreage.
Overall, mature hops in the Pacific Northwest delivered a successful crop in terms of both quality and yield. Following a cool and wet spring, the season warmed and remained mild for most of the growing season. Triple digit temperatures were not experienced until early August, and then only for a few days. This mild growing season was beneficial for aroma varieties, where excellent lupulin gland development resulted in a crop with generally high oil content and alpha content in line with long-term averages.
However, yield increases from the mature crop were largely offset by a challenging year for baby hops. The cool spring and increased reliance on tissue-culture production of potted plants created a double-whammy, resulting in some baby yards not being harvested. Although PNW hop growers have generally expected 60 to 80 percent of mature production on baby yards, this year's average will be considerably lower, particularly in Washington and southern Idaho, where plants are generally strung in the first year following planting. In Oregon, where hops are generally not strung until the second year in the ground, the baby crop performed well, benefiting from mild summer weather without temperature spikes.
Almost 300 acres in Washington, Oregon, and the upper Midwest were lost to trellis collapse, as severe storm conditions just before harvest put additional strain on heavy bines. Much of this acreage went down in early August before cones were fully developed and was not salvageable.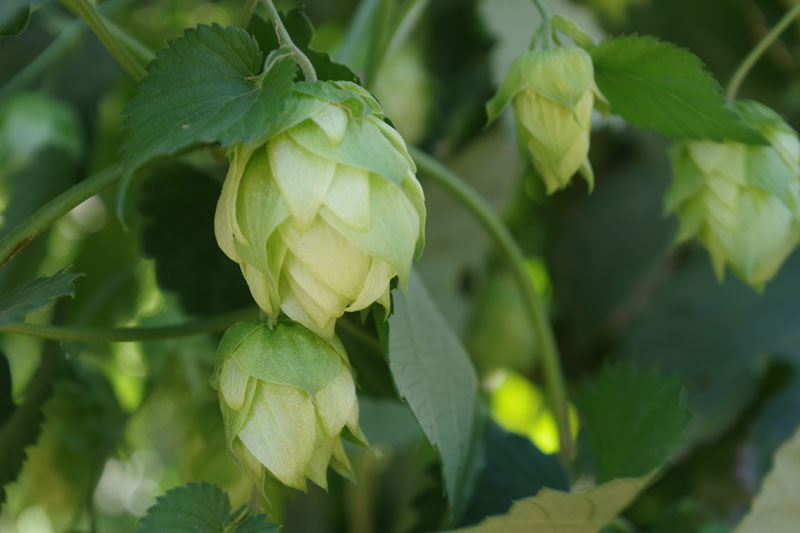 With nearly 77 percent of U.S. hop acreage, Washington's Yakima Valley enjoyed adequate irrigation water supplies despite early drought concerns. Citra, the U.S. acreage leader, had good yields on mature yards and excellent quality. Alpha varieties were strong with above-average yields and good average alpha readings. The overall crop quality was very good, although slightly elevated seed was noted in many varieties. Mild temperatures resulted in a prolonged bloom period, which may have contributed to higher seed development.
Southern Idaho aroma production was average to above average, with Citra, Chinook, Cashmere, Mosaic, and El Dorado® showing exceptional quality. The cool, wet spring resulted in mildew issues in some varieties, but July saw ideal growing conditions, allowing normal integrated pest management (IPM) programs to be followed.
Oregon had a strong crop overall, with most varieties coming in at average to above average. Some hop yards experienced severe flooding in April, which delayed spring field preparations; however, impacts were minimal. Centennial was particularly strong this year; Cascade was variable and average at best. Nugget and mature Citra also performed quite well in Oregon, with good alpha readings for Nugget. Quality for most varieties was exceptional, although some elevated seed content resulted from the season's prolonged bloom period. Weather challenges during September caused a prolonged harvest and some late-season difficulties due to muddy fields.
Other U.S. States
Michigan is the fourth-largest hop growing state in the U.S., reporting 720 acres in 2019. This was a decrease from previous years as several very small growers decided to leave the industry.
In general, the Midwest experienced average to below average yields due to pests, disease, and weather-related challenges. Quality appears to be average in most areas. Moving east, weather conditions were particularly challenging in Kentucky and neighboring states, with wet conditions through early summer followed by hot and dry August weather, which hastened crop development and increased disease pressure. Early varieties fared better than later ones because of the ongoing weather challenges. Virginia growers also reported very dry late summer conditions.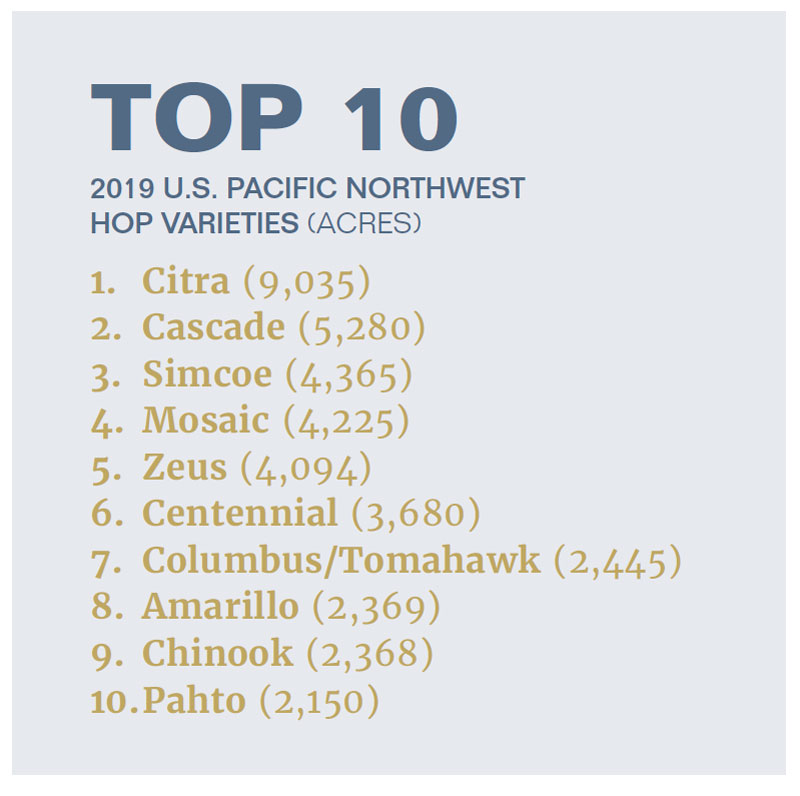 Several states outside of the Pacific Northwest reported a loss of acreage as small growers succumbed to the financial and agronomic realities of hop production. High capitalization costs, limited contracting, and ongoing challenges from pests and diseases drove a number of these growers to cease production, with some deciding to switch to hemp.
Two big issues for growers outside of the Pacific Northwest are the inability to access popular proprietary hop varieties and the lack of economies of scale. Without considerable price enhancement for local production, it is increasingly difficult for these growers to compete with the large PNW family farms that benefit from generations of knowledge and financial investment and can create efficiencies by spreading fixed costs over a larger production base.
The author Ann E. George is executive director of Hop Growers of America.
Source
Brewers Association, Boulder, USA