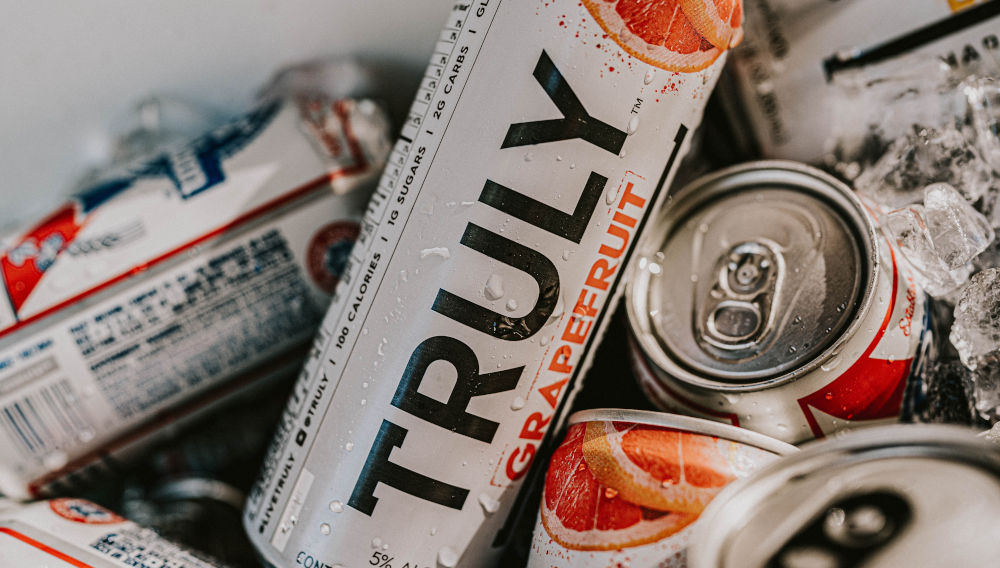 01 October 2021
Sooner than expected hard seltzer sales fizzle
USA |Hard seltzer's slumping summer sales have sent waves of concern across the beverage industry. The slowdown started with consumers' return to the on-premise and has only gotten worse as the summer has worn on.
The data, which were posted on Molson Coors' blog in September 2021, underline that while several brands, including Molson Coors', could hike their sales, the category still resembles a two-horse race between White Claw (Mark Anthony Brands) and Truly (Boson Beer).
Molson Coors' hard seltzer portfolio (Vizzy and Topo Chico) is up 240 percent year-to-date in volume sales at retail, according to IRI multi-outlet and convenience data through 5 September. The segment overall, by comparison, is up 18.5 percent. This compares with a growth rate of 159 percent in 2020, according to IRI data.
However, over the 13-week period ending 5 September, the seltzer segment slogged to just 4.4 percent volume growth.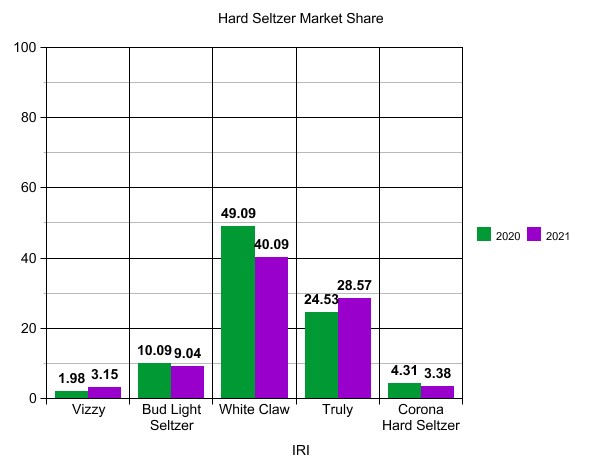 Over the summer, some brands have registered slowdowns and others outright declines. This has prompted pundits to wonder again if consumers' love affair with hard seltzer is actually just a fling?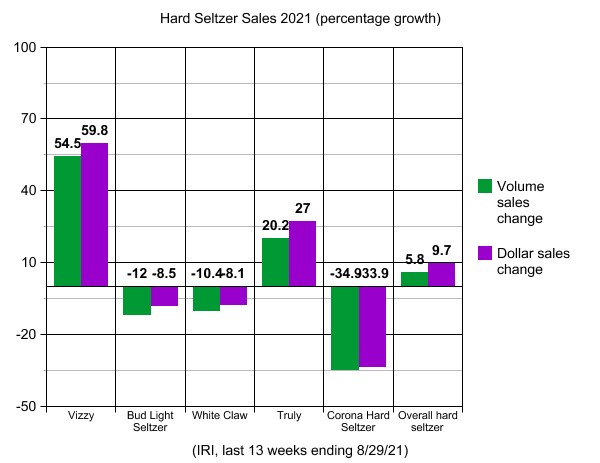 "The hard seltzer craze has come to an end," cried CNN. And the website Beer Business Daily screamed: "Hot Seltzer Summer is Truly Over," declaring that "the fall of hard seltzers has been swifter and steeper than many could've imagined."
Both Boston Beer and Constellation Brands, which produces Corona Hard Seltzer, have publicly admitted they have overestimated consumer demand for hard seltzers and would be forced to take write-downs for excess inventory in 2021.
The seltzer bubble is not about to burst. But the triple-digit growth rates that propelled the category through 2019 and 2020 are certainly a thing of the past.
Keywords
Authors
Ina Verstl
Source
BRAUWELT International 2021