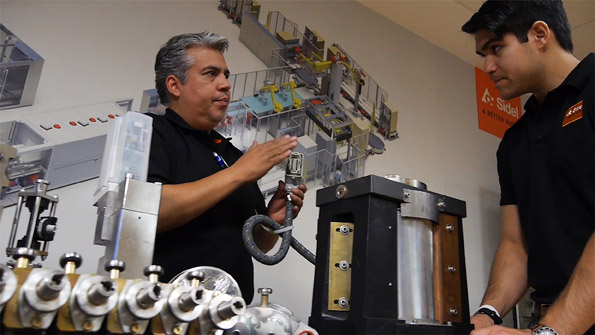 05 September 2014
Sidel opens new high tech training centre in Mexico
Sidel Services™ has opened a new and advanced training centre in Guadalajara, Mexico, featuring the very latest training technologies, with a virtual factory environment, augmented reality and authentic parts that trainees can handle themselves. Staffed by professional training instructors with years of beverage industry experience, who use a mix of engaging methods to educate trainees, the new centre has already welcomed representatives from beverage producers across Latin America.
A recreation of the customers' plant can be simulated with the latest in virtual technology to give the trainees a familiar environment, similar to their own workplace. The tailored sessions use authentic parts for assembling and disassembling, along with functional key items of equipment such as valves; filling, blowing and labelling stations; production line PCC (panels for control and command) simulators to develop troubleshooting skills; and the latest 3D interactive modelling system, bringing the ability to disassemble in detail every piece of equipment in the entire Sidel portfolio.
Sidel delivers over 350 training programmes using multiple languages and techniques, covering numerous areas from technical training and line management to product management, operator safety and environmental protection. The training combines knowledge transfer techniques with practical, hands-on experience.