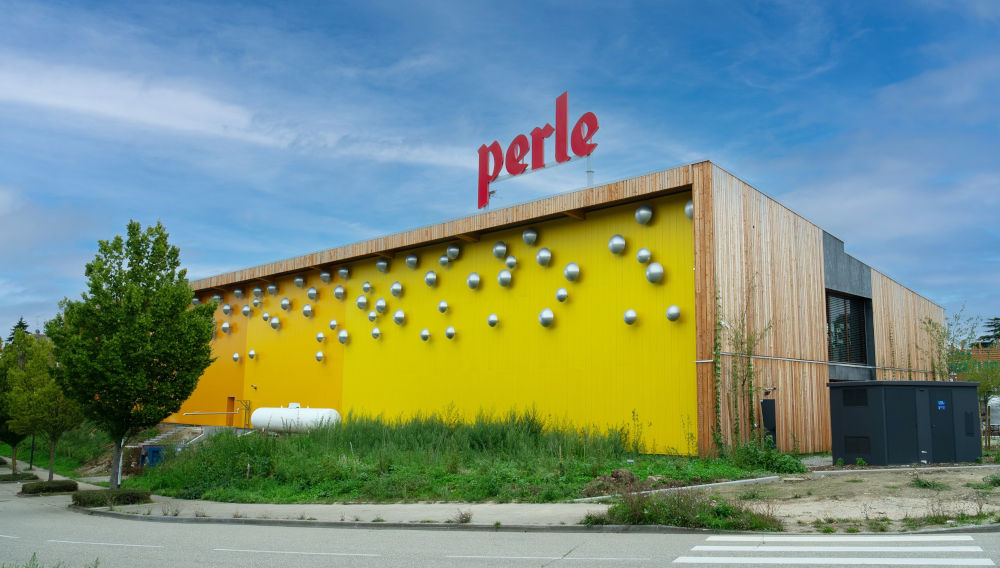 22 September 2023
Brasserie Perle: A new Strasbourg landmark opens
France | Locals say: If you drive into Strasbourg on the motorway from the north, the first landmark you see is the big IKEA store, followed by the new Perle brewery and the cathedral tower beckoning in the distance. After 18 months of construction and installation works, the Perle brewery opened its doors in July.
What locals fail to mention is that another landmark used to grace Strasbourg's skyline for decades: the Heineken brewery across the motorway from Perle in Schiltigheim. But, to locals' consternation, Heineken announced in November 2022 that it will close the brewery with the loss of some 200 jobs.
Although no industry buyer has been found yet and the brewery continues to operate, most locals seem to have eradicated the Heineken plant from their mind's eye already.
Perle – a brand with history
The new Perle brewery is the brainchild of Christian Artzner, a globetrotting brewer who turned craft brewer when he founded his first Perle brewery in the south of Strasbourg some 15 years ago.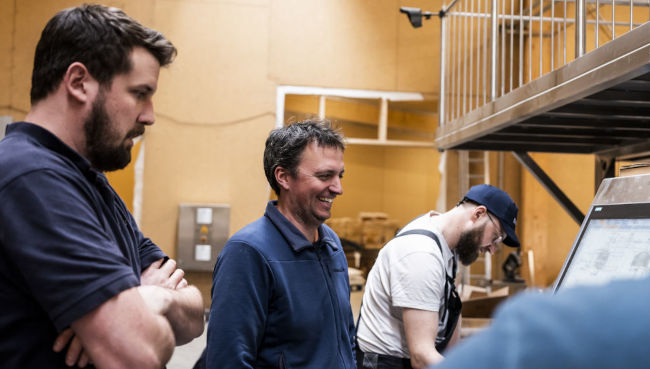 The Perle beer brand still resonates with locals. Mr Artzner's great-great-grandfather built the first Perle brewery in the Schiltigheim brewery district of Strasbourg in the 19th century, where it sat next to other iconic Alsatian breweries including Fischer, Adelshoffen, and Schutzenberger.
The first Perle was discontinued in the 1970s, followed by Adelshoffen, Schutzenberger and Fischer until the Heineken brewery was the only major brewery left. Once it is gone, the Storig brewpub, which opened a few years ago, will be the last to carry Schiltigheim's brewing heritage forward.
A beer garden for the 21 century
From across the motorway in the district of Cronenbourg, Mr Artzner is optimistic that he can widen his beers' appeal. He has certainly planned for expansion. His new brewhouse (Braukon) can produce 40,000 hl beer per year. Operating a taproom – or what locally is called a "Bierstube" - should also help him spread his story.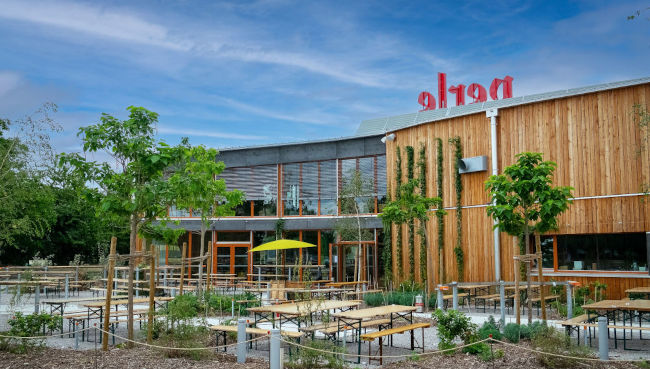 As punters can see for themselves, a lot of deep thinking (and money) has gone into designing the brewery along environmentally-friendly lines. The brewery is clad in wood and insulated with straw, both sourced locally. A passive geothermal system was installed to provide cooling and store the packaged beer in a naturally tempered room. Environmental concerns also entered into the planning of the beer garden. At the advice of experts, Perle's beer garden will not be shaded by the traditional chestnut trees but by paulownia, or empress trees, which grow quickly and are good at surviving drought and hosepipe bans.
All French are expert restaurateurs
Although the taproom and the beer garden have pulled crowds since Perle's soft opening in July, Mr Artzner is still experimenting with how to organise beer sales at the bar. He does not provide food, only knackwursts, pretzels, and nuts, as there is usually a food truck parked outside.
Trouble is, the French are fussy if not to say super-critical customers. And they are all expert restaurateurs. They know best how to run things. Therefore, they do not like queuing or buying their beer at the bar, like the English do. They want to be served. But staff is in short supply. Mr Artzner hopes that making his punters order their beer via their smart phones could offer a way-out.
Getting his pricing right has required more soul-searching than sound financial calculations. Dismissing the happy hour custom, Mr Artzner is selling his beers slightly below average on-premise prices – because he is offering no service - although they should probably be priced higher. Beer is relatively expensive in France. A glass (500 ml) of his pilsner beer costs EUR 6.00 (USD 6.50), his specialty craft beers EUR 7.00 or more.
Mr Artzner has not yet set a date for Perle's grand opening so that he can still tinker with taproom issues, but he is planning to hold an event in the autumn.
Craft beer market is saturated
You have to admire Mr Artzner's courage. Few would have dared to invest millions of euros into a brewery venture at a time of heightened competition in the French beer market.
A century ago, the best beers to be had in France came from Alsace. Those were the days when the American writer Ernest Hemingway and tout le monde in Paris flocked to the Brasserie Lipp on Boulevard Saint-Germain. If flush with money, Hemmingway would drink copious amounts of Alsatian beer in one litre glasses called "un distingué" and eat potato salad, followed by sausage covered in mustard.
Nowadays, you will find some 2,500 craft breweries scattered all over the country, vying for shelf space and taps, as they compete with the Big Brewers Kronenbourg/Carlsberg, Heineken and AB-InBev. The French are known for holding French culture, fashion, wines, champagne, and food in high esteem. But when it comes to drinking beer, they do not wrap themselves in the flag.
What will become of the Fischer brand
In hypermarkets, the Heineken brand was the best-selling beer in 2022, followed by Leffe (AB-InBev), 1664 (Carlsberg) and Desperados, a beer mix by Heineken, reports say. The Kronenbourg brand (Carlsberg) ranked fifth. It is doubtful that Kronenbourg is a brand which consumers will immediately associate with Alsace, although it is brewed there.
The Alsatian Fischer brand, which is owned by Heineken, does not even feature among the 10 best-selling beers in hypermarkets. This is probably one of the reasons why Heineken decided the Schiltigheim brewery was surplus to its requirements and production could be shifted to its big breweries in Lille, northern France, and Marseille.
Rest assured that Heineken will be watching Perle's progress closely. Once the Schiltigheim brewery is shuttered, the Fischer brand may need a new physical home. Heineken has not said anything to this effect yet. But when Heineken announced it would close its Brand brewery in Wijlre in the Netherlands last year, it stressed that it would be replaced by a Brand microbrewery. Maybe Perle will provide the blueprint for the new Fischer microbrewery?