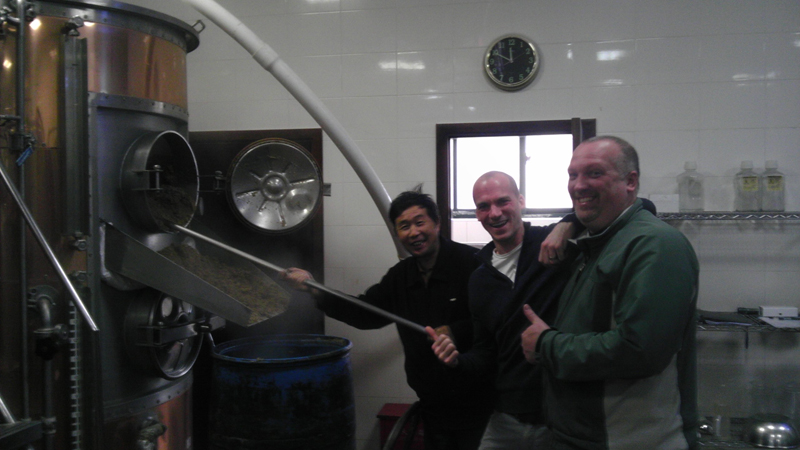 18 January 2013
Cat Scratched Celt
The craft brewer Boxing Cat from Shanghai, China has announced that the much anticipated Cat Scratched Celt beer is now pouring at its Sinan Mansions location. The Cat Scratched Celt is a collaboration creation between the Boxing Cat Brewery and The Celt Experience of Wales. Cat Scratched Celt represents the combined brewing philosophies of the Boxing Cat's brewmaster Michael Jordan and The Celt Experience's brewmaster Tom Newman.
Brewmasters Michael and Tom met by chance at the Boxing Cat Brewery while Tom was in Shanghai promoting The Celt Experience which is new to the China market. The two brewmasters began discussions about brewing together and tasted various craft beers at the Boxing Cat Brewery. They then developed a brewing recipe matching to the flavour profile they wished to create and Cat Scratched Celt was born.
The Cat Scratched Celt beer is a hoppy US West-Coast Amber beer that uses four distinct varieties of US hops. The light touch of different caramel malts provides a malt backbone to balance the robust hop flavor and the combination of Citra and Mosaic hops provides aromatic notes of passion fruit and pineapple.
The awarding winning Celt Experience of Wales is known for combining modern brewing equipment with ancient Celtic brewing methods, creating flavoursome and holistic organic ales and a hand crafted lager. Using the same recipe as developed with Boxing Cat brewmaster Michael Jordan in Shanghai, Cat Scratched Celt will be brewed by The Celt Experience brewmaster Tom Newman in Wales on a larger scale. The beer will be sold in Wales and England under the same Cat Scratched Celt branding as used in China.
Keywords
Source
BRAUWELT International 2013