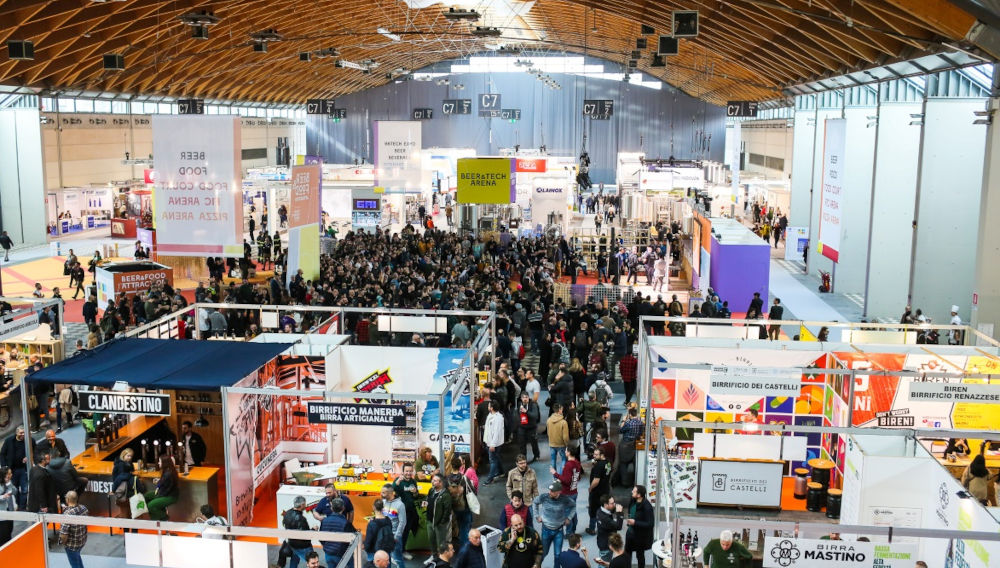 03 March 2023
Big turnout at the IEG, Beer&Food Attraction and BBTech Expo 2023
Increase in visits | The 8th Beer&Food Attraction 2023 took place in Rimini, Italy from 19–22 February 2023. It saw a 12 % increase in total professional visits and an extraordinary 30 % increase in foreign visits compared to 2020.
The out-of-home industry maps its high quality and sustainability course at Beer&Food Attraction in Rimini and was able to convince the professionals operating in the Italian and international food & beverage supply chains, who responded with a 12 % increase in total professional visits compared to the pre-pandemic 2020 edition and a 30 % increase in visits from abroad, again in respect of 2020, from 85 countries, including Germany, Romania, Spain, France, the United Kingdom, Poland, Belgium, the Netherlands, Switzerland and the United States.
IEG and BBTech: Focus on business
IEG's b2b show, at its 8th edition, accompanied by the 5th BBTech expo specifically for technologies and raw materials for beer and beverages, saw 600 brands exhibiting in 12 Rimini Expo Centre halls with a substantial presence of top international buyers from 36 countries, thanks to the partnership with ITA – Italian Trade Agency, the Ministry of Foreign Affairs and International Cooperation and IEG's network of regional advisors. Business and networking were also facilitated through Teo, the b2b app, which recorded 40 thousand exhibitor profile viewings.
Horeca
Four days of networking, business, training, tastings, competitions and institutional interventions in which to discover the newest items that distributors and exhibitors will be including on their menus for the coming season: Rimini was the place to be for Italian Horeca. It included the 12th International Horeca Meeting organised by Italgrob – Italian Federation of Horeca Distributors; IEG's new Mixology Circus area with trendy Italian cocktail bars; and the Unionbirrai Beer of the Year Award, which returned to Rimini with 2,200 craft beers competing in 46 categories.
The route to sustainability
Breweries are becoming increasingly green by adopting recyclable kegs as well as tapping and bottling technologies that, either with artificial intelligence or energy-saving technologies, optimise costs and reduce environmental impact. The domestic beer consumption market grew by 4 % in 2022, as Alfredo Pratolongo, President of Assobirra, highlighted and is managing to avoid excise duty increases, with a sigh of relief from microbreweries as well, as Unionbirrai President, Vittorio Ferraris, pointed out.
Environmental sustainability goes hand in hand with social sustainability: for 93 % of Italians, getting together to drink and eat is one of the fundamental aspects of the Italian lifestyle, 47 % go to public places when they eat out in the evenings, particularly in the night-life areas. 40 % of Italians would like to go out more in the evening for a positive effect on their quality of life. These were the numbers that emerged from the second Italgrob/Censis report presented at the International Horeca Meeting.
Beer&Food Attraction and BBTech expo solidly act as community catalysts for the entire out-of-home industry and its stakeholders, including: Italgrob; Unionbirrai; Assobirra; Consorzio Birra Italiana; Brewers Association; Mineracqua; Assobibe; Federvini; FIC; Cast Alimenti; Confimprese; and the research institutes: Censis; Tradelab; IRI and Formind; the University of Udine; Cerb – Perugia University's Research Centre for Beer Excellence; and Florence University's Craft Beer Observatory – Dagri.
The next edition of Beer&Food Attraction and BBTech expo will take place from 18–21 February 2024.