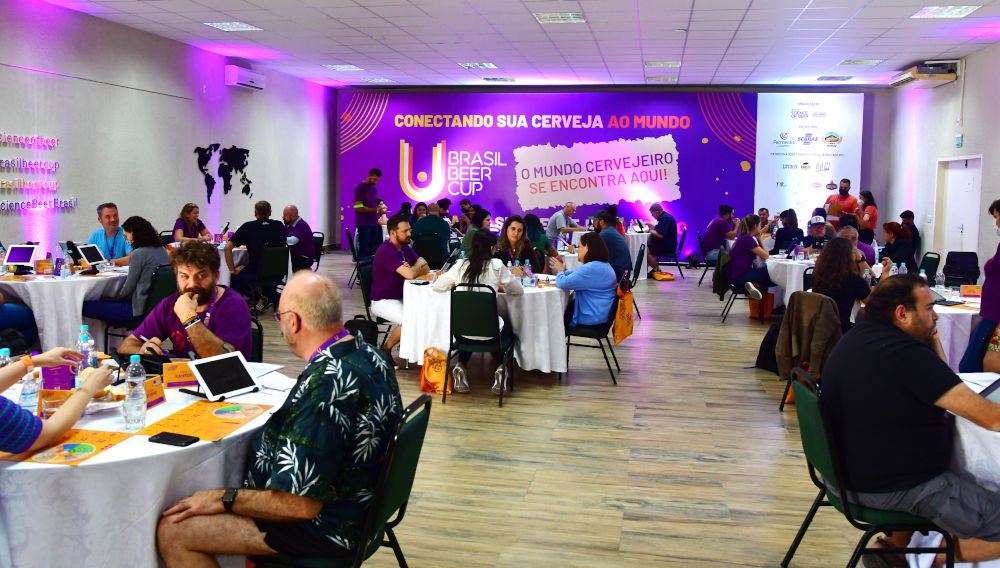 14 January 2022
Brasil Beer Cup awards best beers in Latin America
Brasil Beer Cup | The Brasil Beer Cup took place in Florianópolis from 22–24 November 2021. A total of 1216 beers were submitted from Brazil, Uruguay and Mexico, and judged by categories in 157 different styles.
270 breweries took part in the Brasil Beer Cup contest, and 269 Brazilian beer labels were awarded. The entries came from 21 Brazilian states, the states with the highest number of registered beers being Santa Catarina with 30 per cent; São Paulo with 16 per cent; Paraná with 15 per cent and Rio Grande do Sul with 11.54 per cent.
The task of evaluating, ranking, and rewarding the beers was charged by 53 judges from 12 countries around the world, all specialists recognized in the brewer industry. After 3 days of work, the panel of judges arrived at the results announced by the Science of Beer Institute, organizer of the competition, in a live session streamed on their YouTube channel in the evening of the 26th of November.
In total 83 gold, 94 silver and 92 bronze medals were awarded. The state with the highest number of medals is Santa Catarina, with 85. In second place comes São Paulo, with 51, followed by Paraná with 41 medals, Rio Grande do South with 26 and Minas Gerais with 22 medals. Some states like Mato Grosso and Rio de Janeiro also stood out, both with 11 medals. From the Northeast region the Highlight goes to the state of Alagoas with 7 medals.
Mexico also had a gold medal-winning beer in the category Chili Beer – the Amor de Verano beer produced by Cerveza Caserio.
The "Large Brewery of the Year" award went to Blumenau Beer from Santa Catarina; the "Medium Size Brewery of the Year" award went to Bodebrown from Paraná; and the "Small Brewery of the Year" award went to Masterpiece from Rio de Janeiro.
The best beers of the entire contest, called "The Best of Show", were: Farm Clear Beer, from Endemic Brewing CO (style: Brazilian Beer with Brazilian yeast, malt and/or hops), in the category "Innovation"; Berliner Weiss Beer, from Grupo Petrópolis (style: Berliner-Style Weisse), in the category "Experimental"; and Belgard Catharina Sour Pitaya and Passion fruit, from Belgard Brewery (style: Brazilian Beer – Catharina Sour), in the category "Commercial".
The complete table of medals of the Brasil Beer Cup 2021 can be found on the website https://www.beersummit.com.br.