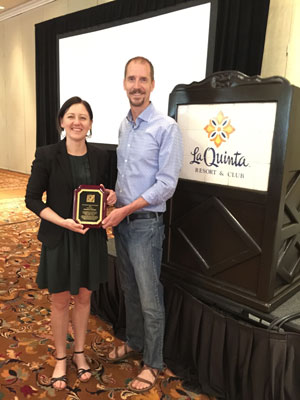 07 August 2015
Eric Kneen Memorial Award 2015 goes to Germany
The Eric Kneen Memorial Award 2015 for the best paper published in the Journal of the ASBC in the previous calendar year went to an author team from Germany. The award was presented to the lead author Dr. Christina Schmidt by ASBC president Prof. Thomas Shellhammer, Oregon State University, at the annual meeting of the American Society of Brewing Chemists, which took place from 14-17 June 2015 in La Quinta, USA.
In their article "Influence of Different Hop Products on the cis/trans-Ratio of Iso-alpha-Acids in Beer and Changes in Key Aroma and Bitter Taste Molecules During Beer Ageing" the authors describe the influence of iso-alfa-acids on the flavor stability of beer. They were able to prove that pre-isomerisation within or without the brewery has no advantages over the conventional hopping with pellets or extract.
Criteria for the selection of "best" publication include clarity of exposition, contribution to technical understanding, originality and an overall industry relevance. The findings resulted from a cooperation of the seven authors Dr. Christina Schmidt and Dr. Martin Biendl, both Hopsteiner, Germany; Dr. Annika Lagemann and Dr. Georg Stettner, both Bitburger Brewery Group GmbH; and Christian Vogt, Andreas Dunkel and Prof. Thomas Hofmann, Chair of Food Chemistry and Molecular Sensory Science, TU München, Weihenstephan, Germany.