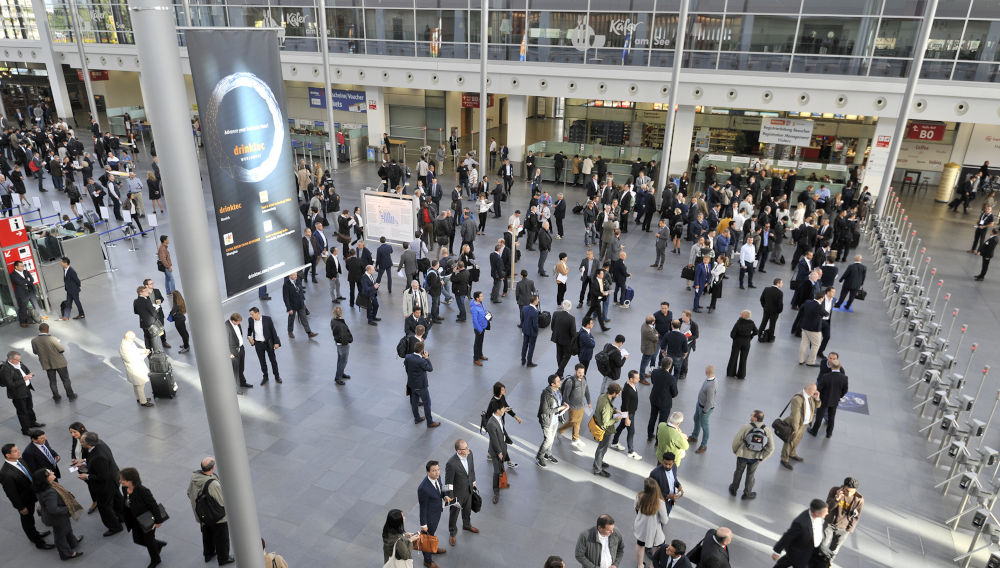 15 July 2022
drinktec 2022: Preparations in full swing
Positive energy from the industry | A long dry spell is behind us, which has created great anticipation for what awaits us. And at last, the time has come: from September 12 to 16, 2022, the drinktec will open its doors to attendees and exhibitors from the entire beverage and liquid food industries. We talked to Petra Westphal, Exhibition Director of drinktec, and Markus Kosak, Exhibition Manager of drinktec, about the topics and solutions we can look forward to in Munich this September.
The drinktec, the world's leading trade fair for the beverage and liquid food industries, is coming at just the right time. Having learned to deal with Covid on a daily basis, we have now seamlessly moved onto the next international crisis. Personal interaction among the attendees and exhibitors, which is finally possible after all this time, now seems more important than ever. Here the drinktec will take the lead in what has distinguished it most up to now: offering solutions and answers to any questions and challenges that have arisen over the entire production chain in the beverage and liquid food industries.
Ms. Westphal, Mr. Kosak, you are now on the home stretch prior to opening the doors at the drinktec. What is the mood like there?
Markus Kosak: When all is said and done, the drinktec – as of today – is in a very good position. More than 90 percent of the exhibition area is already rented out. Most of the exhibitors, with whom we are, of course, also in close contact, are really engaged in the event and not just standing in the corner looking on. The trade fair preparations are in full swing; stand design concepts are in place; the exhibits are prepared...our exhibitors are chomping at their bits awaiting the trade fair. Invitation management is working hard and running at full speed as well.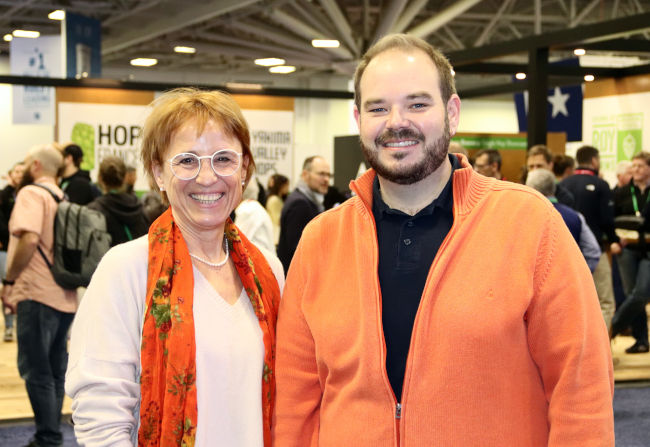 Petra Westphal: It is very important for me to add at this point that exhibitors and visitors alike will undoubtedly have a very familiar drinktec experience, especially in terms of the size of the trade fair. 2017 was an absolute record year for drinktec, especially due to its association with SIMEI. The record year aside, the drinktec has always filled twelve halls since it has been held on the new exhibition grounds, and we will also fill these twelve halls in 2022. So, we can all look forward to the drinktec as we know it. A who's who of the industry will be present, too. Of course, the pandemic has not left the drinktec completely unscathed. Perhaps one or the other visitor will not be able to attend. However, we are hearing in our discussions that both exhibitors and visitors can hardly wait to meet and exchange ideas again as a global community.
What has been the response so far from abroad?
Westphal: Two things in particular have made me very happy in the last few days and weeks. On the one hand, we have received a lot of positive feedback from all areas of the production chain. There have been many enquiries from North and South America – large delegations will attend from those continents. We will welcome the world to Munich in September. China and Russia will for the most part likely be absent, but the rest of the world will be there. Our exhibitors have been passing this information on to us. And so, today, I can optimistically say that 1200 exhibitors from over 70 countries will be there to greet 65,000 visitors from over 170 countries.
Are there any particular regulations to be observed with regard to Covid for trade fair attendees?
Westphal: As things stand today, the answer is quite simply: "No". Of course, we will be offering our tried-and-tested hygiene concept in the exhibition halls. We carefully observed the strict rules during Covid and will continue to have measures in place to create a safe environment for all at the fair. With our modern ventilation system, we are able to ensure a sufficient supply of fresh air. We always comply with the current legislation. The status at the moment is as follows: everyone is allowed to enter the fair. There are no regulations concerning testing, vaccination, or recovery; likewise, there is also no mask requirement. We are also very confident when looking into the crystal ball for September. Looking back, the situation in September 2020 and 2021 was relatively relaxed. Even then, trade fairs were allowed to take place. Based on the conversations we have had with members of the industry, we feel that they also share our optimistic point of view.
Kosak: The decision to hold the Oktoberfest this year has also had a positive effect. In this context, we were particularly pleased that the Oktoberfest was given the go-ahead. In any case, this will also benefit the drinktec.
What about the trade fair itself? What can attendees look forward to?
Kosak: We address the entire production chain, from raw materials to finished products at the POS, including containers, packaging and logistics. For every process, no matter what kind of beverage and liquid food production, the exhibitors at the drinktec offer innovative solutions – from filling and packaging technology to all associated components, such as pumps, piping systems, cleaning and analysis methods to process control systems. There is an area at the exhibition set aside for the process technology specific to malt and beer production. We have also dedicated one area to the entire PET industry. Solutions for the hotel industry, gastronomy and point of sale round out the exhibition.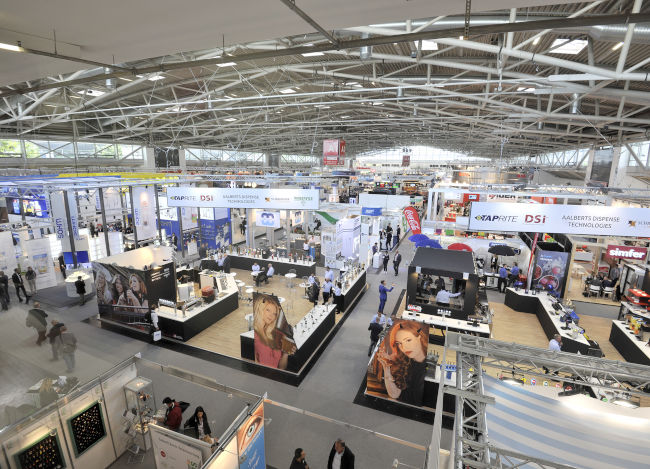 Westphal: It is imperative that we emphasize that we hope to appeal to anyone involved in the creation of beverages and liquid foods, regardless of their size. The drinktec offers solutions at all levels of production. 70 percent of our exhibitors occupy areas of less than or equal to 50 square meters.
What will attendees be able to experience as part of the supporting program?
Kosak: I would first like to mention our two drinktec Inspiration Hubs. On two stages, exhibitors will have the opportunity to present the latest developments and their achievements with regard to the "leitmotifs" of the drinktec. Best practices will be presented, including novel solutions, recent findings and real innovations. This is where exhibitors set the tone and spark inspiration over all five days at the trade fair. In round table and panel discussions, distinguished speakers will confront challenges facing the industry given the general market situation in the wake of Covid. They will also examine how industry and markets will change and must react.
Westphal: Neutrality and professionalism in these discussions and lectures are extremely important to us. For example, an external expert, who has been supporting us at this point for more than twenty years, checks whether the lectures submitted meet with our solutions and future-oriented requirements. She has already signaled to us that we can look forward to groundbreaking presentations full of innovative ideas. The program has been available for download on our website since June.
Kosak: Then there are our networking areas, such as New Beverage Concepts. Drinks are no longer mere thirst quenchers – they should also impart functional benefits, be appealing in color and possess a satisfying flavor. In this area, visitors are able to interactively experience all the latest recipes and modern sweeteners as well as concepts for enriching beverages and creating colors, all of which can be tasted at the bar. This complements our exhibition area for raw materials and ingredients, which fills an entire hall.
For all who want to find out about the latest process technology for the production of vegetable oils and animal fats, I recommend a visit to oils + fats in Hall C3.
Westphal: We are also providing an interesting supporting program there as well, which is guaranteed to be of great interest to classic drinktec attendees. For example, techniques for obtaining proteins from oil-bearing seeds will be presented, which is a crucial issue for human nutrition.
Kosak: And finally, for the first time ever, this year we will be offering a platform where international start-ups can introduce themselves. We have designed the program together with the Strascheg Center for Entrepreneurship, which is affiliated with the University of Applied Sciences in Munich. Pitches, coworking workshops and networking will take place in these two areas. This is where our exhibitors will be able to meet and greet the "young wild ones" of the industry and hopefully build lasting partnerships. We are convinced that the agility and creativity in this area will be contagious and will inspire new ways of thinking and give wing to new ideas. For German companies, participation can be even more profitable, because they are also supported by BMWi within the framework of "Young Innovative Companies".
You had mentioned the "leitmotifs"of the drinktec…
Kosak: Yes, the four major themes at this year's drinktec are sustainable packaging and production, water and water management, digitalization and digital solutions as well as the consumer world and product design. We have developed these topics in cooperation with the members of our advisory board and with the VDMA, who supports our efforts and shares our ideology. The topics run like a red thread not only through the aforementioned areas and the event program, but also through the entire exhibition area and thus the whole range of solutions offered by our customers.
Westphal: We must be very concrete and clear. Thus, we have set up a detailed content map and never simply allude to, for instance, sustainability, but go into considerable detail specifically about sustainability in the field of packaging and process engineering. The major themes are divided into their respective subtopics, which, as Mr. Kosak has already mentioned, we have developed in cooperation with the industry. Of course, this is where the knowledge our customers urgently need is located. And this is precisely our principal concern. It is only at drinktec that the global community will be capable of finding a complex and complete range of innovations and solutions for every problem. And it is this high level of diversity which makes the drinktec unique. And especially now, when we are all facing such immense challenges, the exchange of ideas across borders is essential. In this way, innovative solutions for tomorrow's problems can be developed with imagination and ingenuity.
How can goal-oriented attendees prepare for their visit to the drinktec?
Kosak: We offer our attendees a number of tools for preparing for the trade fair. Attendees will find a database of all registered exhibitors on our website. In this way, anyone attending can prepare for their trade fair visit today, if necessary. Customers can search by product, solution, company names listed alphabetically or by country and find detailed information about products in the form of presentations, videos or papers.
We are also working on fine-tuning an app that will become available well before the beginning of the trade fair. In addition to the information listed above, app users will also be able to access our Innovation Guide. Before the drinktec, a teaser will appear regarding who will unveil an innovation. Only at the drinktec will the attendee be able to see what kind of innovation it is. That's the way it is, I'm afraid. The curtain is only lifted at the beginning of the drinktec, and only then will everything be revealed to those attendees who are on site.
Westphal: I want to come back to the list of solutions again. We developed this for the first time for the drinktec in 2017. It is extremely important to us that everyone finds their way around the drinktec in the most effective way possible – regardless of the depth of one's own expertise. With the list of solutions, anyone in attendance should be able to find a product they need to overcome almost any given challenge. Hence, it was used by many at the previous drinktec. I recommend this to everyone. It is helpful for optimizing time spent at the trade fair and expands the horizons of those in attendance.
Our digital tools allow attendees to perfectly prepare for their targeted physical encounters. Because one thing is also clear – our industry sorely needs to get back to discussing things face-to-face. Some machines and other systems require a lot of explanation and consultation with highly qualified personnel. This can be accomplished best when looking at one's client or supplier directly in the eye. Moreover, our attendees and exhibitors also want to ensure no one else is listening in to their conversations, but in digital meetings, one never knows. And last but not least, it is the experience with all five senses that allows the creative juices to flow and not only to understand but to develop an understanding. Tell me truthfully – how many digital meetings have moved you? And from how many have new ideas emerged? I would guess not that many…
What would it take for the drinktec 2022 to be a complete and utter success?
Kosak: I would like to appeal to all participants to prepare early for their trade fair visit. We are very pleased to be able to welcome everyone to the drinktec in Munich again. And we will be even happier if all of the participants are well-prepared and are therefore able to have a successful trade fair experience.
Westphal: And I am delighted that we are receiving such a tremendous amount of positive energy from the exhibitors. There is quite a bit of anticipation for the drinktec. Given the time spent under the cloud of the pandemic, this year's drinktec will be like a huge reunion in September. I believe that the trade fair will be like a spark plug in many respects and will provide impetus to keep the industry's engine running at full speed. Drinktec has already proven that it wields this power in 2009, the year of the financial crisis, and hopefully this will be the case again in 2022.
Mrs. Westphal, Mr. Kosak, thank you very much for the interview!
The interview was conducted by BRAUWELT editor Dr. Christian Dekant.