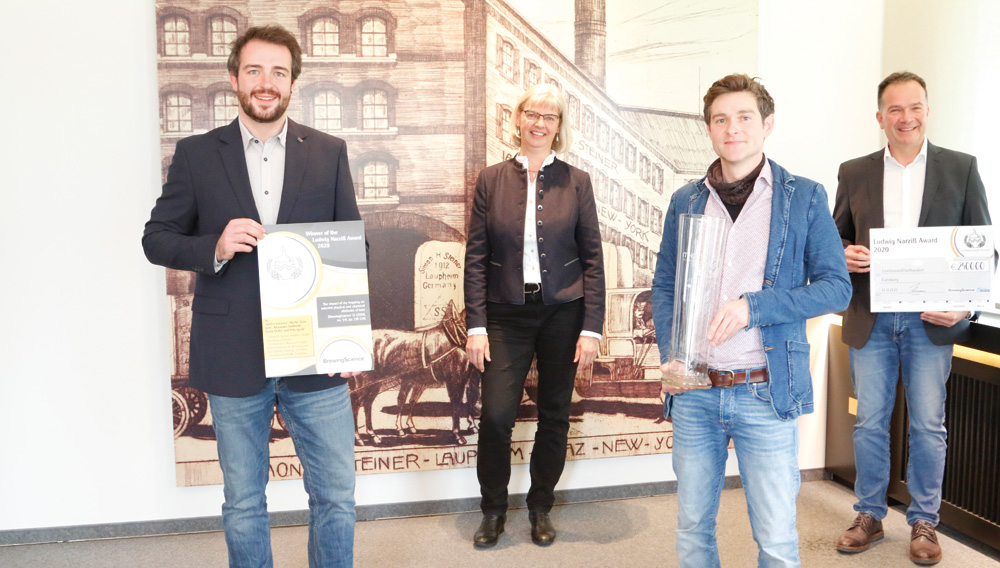 19 November 2020
Sandro Cocuzza honored with the Sixth Ludwig Narziß Prize
Ludwig Narziß Prize for Brewing Science | As with almost all public events, awards ceremonies have also been impacted by the current Covid restrictions. The Ludwig Narziß Prize for Brewing Science would ordinarily have been awarded to this year's recipient on November 12th in Nuremberg at the BrauBeviale, which would have taken place in the presence of, and with a laudation given by the namesake of the award, Prof. Ludwig Narziß.
This year's winners are very deserving of their award. From the 33 submitted and the 27 published contributions in BrewingScience in 2019, the one singled out to receive the award was entitled: "The impact of dry hopping on selected physical and chemical attributes of beer", authored by Sandro Cocuzza of Simon H. Steiner Hopfen in Mainburg, Germany, and his colleagues and co-authors Alexander Stallforth and Frank Peifer as well as Dr. Martin Zarnkow and Prof. Fritz Jacob of the Weihenstephan Research Center for Brewing and Food Quality.
Their 2019 publication in BrewingScience was deemed the most influential and relevant for brewing practice. They investigated linear increases in dry hopping and to what extent this affects the chemical and physical attributes of beer. In order to do so, the researchers had to determine which of these effects could be ascribed to the plant material introduced through dry hopping. The results showed that the following were altered by the amount of dry hopping: hop bitter substances, polyphenols, foam, pH, turbidity, alcohol and extract content. These were assessed by increasing the dry hop addition in increments of 100 g of hop pellets per hl. This provides brewers with valuable information regarding the secondary effects of dry hopping, which are not directly involved with the aroma.
Instead of an expansive public awards event at the trade fair, a smaller yet distinguished awards ceremony was held at the end of October in Mainburg at Hopsteiner. BrewingScience Editor-in-Chief Dr. Lydia Junkersfeld presented the award, which was endowed with prize money amounting to EUR 2500. The winners received a glass trophy and certificate inscribed with their names as well. Prof. Ludwig Narziß also heartily congratulated the recipients of the award: Sandro Cocuzza, Frank Peifer and Alexander Stallforth. In a short address, he emphasized the importance of continuing to explore the science behind hopping on the cold side of the brewery, noting that this is an area which has yet to be systematically researched. "A worthy award-winner," observed Prof. Narziß.
Keywords
Authors
Lydia Junkersfeld
Source
BRAUWELT International 2020