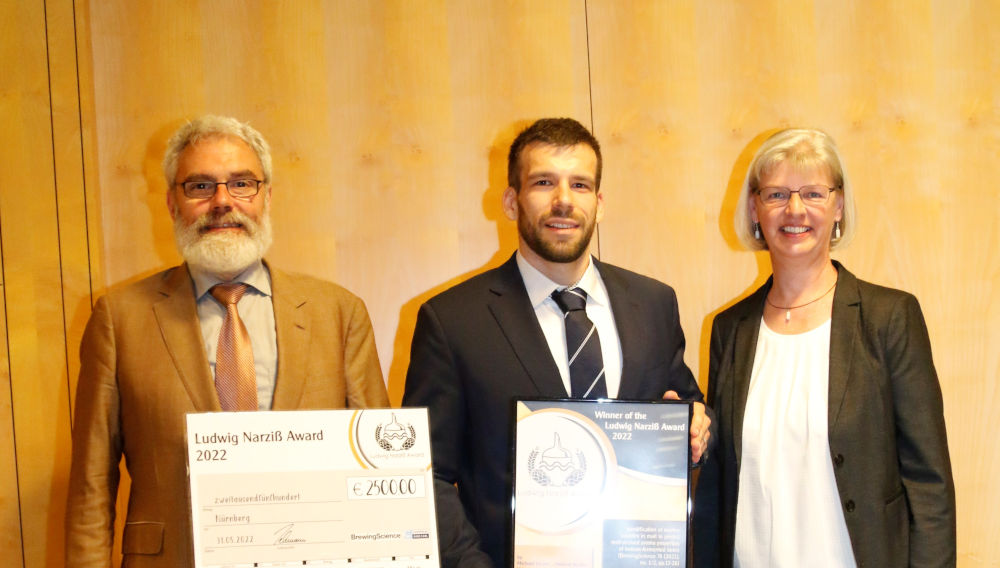 24 June 2022
Malt project wins Ludwig Narziß Award for Brewing Science
Malt publication awarded | The Ludwig Narziß Award for Brewing Science was granted for the 8th time during the 38th EBC Congress at the end of May 2022. For the first time, the winning publication came from the field of malt research. The previous winning entries came from hop research, yeast research and the field of microbiology.
This year, the award went to the article "Identification of marker volatiles in malt to predict malt-derived aroma properties of bottom-fermented beers" by Michael Féchir, Thomas Kraus-Weyermann and Prof. Jens Voigt, BrewingScience issue 74 (2021), no. 1/2, pp. 17–26. BrewingScience Editor-in-Chief Dr. Lydia Junkersfeld was pleased to present the prize of 2500 EUR to Michael Féchir in Madrid together with VeW president Dr. Frank Braun, who manages the finances. Thomas Kraus-Weyermann, Bamberg, and Prof. Jens Voigt, Trier, were unfortunately unable to participate.
All contributions published within a BrewingScience year are considered candidates for the Ludwig Narziß Award for Brewing Science. In addition to the scientific nature of the contributions, members of the approx. 50-member international review group assess the practical relevance of the contributions for the brewing industry as the decision criterion for awarding the prize. The final decision is made by the BrewingScience Board, of which Prof. Ludwig Narziß himself is still a member.